Hide Map
Trailhead
From the intersection of Main Street and ME Route 117 in downtown Norway, take ME Routes 117/118 west out of town. Main Street/ME Routes 117/118 become Lake Street and follow along Lake Pennesseewassee. After approximately 2 miles (a quarter mile past the Lake Pennesseewassee Rest Area), turn south (left) onto Roberts Road and continue 0.2 miles to the Preserve Entrance. Two trailheads are located off the Preserve Parking area. There is a kiosk with maps and program information.
An additional summer hiking trailhead is located at the Lake Pennesseewassee Rest Area.
Description
The Roberts Farm Preserve offers an intricate trail system designed to support many outdoor activities year round. Much of the 165-acre piece of land is covered with both hard and soft woods and is situated above Lake Pennesseewassee, allowing expansive views of the lake and mountains beyond. The property and the parking area are conveniently located off of ME Routes 118 and 117 offering easy access for residents and visitors of the Oxford Hills Region. The trail system includes three types of trails: an ADA compliant loop, two cross-country ski trails of differing widths, and a hiking trail. With the exception of the hiking trail, all trails are open to multiple non-motorized uses.
The ADA compliant trail offers a loop with a hike to a scenic view point. The loop, called a "bird-feeder" trail, is suitable for young children on skis or foot and is user-friendly for the elderly and handicapped. The scenic view trail, also wheelchair accessible, takes visitors to a scenic overlook of Lake Pennesseewassee. The trail has a width of 8 feet and has a smooth and stable surface of 1.5 inch screened gravel. In the spring, summer, and fall, this trail supports stroller and wheelchair users along with runners, and walkers. In the winter, one set of classic ski tracks is set. In short, this trail offers people of all ages and abilities access to the outdoors.
Roberts Farm Preserve currently provides skiers and runners with 6.5 km of intermediate trails with a width of 12 feet that will be groomed for an 8-foot wide skate lane and a 4-foot wide classic set of tracks for skiing. The trail offers numerous loops of moderate difficulty and options for skiing on sections of trail with the most difficult ratings. All trails take advantage of the wooded forest, which allows for shade in the summer and wind protection in the winter. The trails also follow streams, old road beds, and stonewalls with three significant stream crossings over a 14-foot wide bridges.
The hiking trail has two access points: at the Roberts Farm parking lot and at the rest area across from Lake Pennesseewassee on ME Routes 118 and 117. The 2km trail from the rest area climbs to the wider trail and follows it to the scenic point where it continues to weave around and through the trail system to the parking lot at Roberts Farm. The hiking trail is a primitive footpath that is also enjoyable for snowshoers in the winter months.
Other Information
The Roberts Farm trail system allows for a multitude of outdoor activities, including, but not limited to, Nordic skiing and snowshoeing in the winter, and running, walking, and hiking. Due to the varied nature of the trails, they may be utilized by the handicapped, elderly and very young, as well as both novice and experienced athletes.
Due to ongoing trail improvements in 2011, biking and horseback riding are not allowed on the trail system; however, starting in the summer of 2012 these uses will also be allowed.
For program and event information, please check the Western Foothill Land Trust's website (link below) or check Roberts Farm Preserve out on Facebook.

This trail passes through a property that was acquired in part with funds from the Land for Maine's Future program. For more information about the LMF program and the places it has helped to protect, please visit the LMF webpage.
Trail Manager
Visit Western Foothills Land Trust online for more information and a printable map or contact: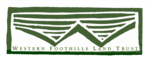 Western Foothills Land Trust
PO Box 107
445 Main Street
Norway, ME 04268
Phone: (207) 739-2124
staff@wfltmaine.org
Nearby Geocaches

Check for nearby geocaches to Roberts Farm Preserve.
Leave No Trace Principle
Minimize Campfire Impacts
Use only small pieces of dead and down wood for campfires and let them burn down to ash. Please extinguish your campfire before leaving.