congratulations!
The Second Nature Adventure Challenge met and exceeded our goals for summer 2021 -- over 200 people logged over 800 trails since July! Thanks to our generous sponsors and all of you getting outside on our local trails, $6,000 will be distributed to local youth outdoor programs!
Give back when you get outside!
You're invited to join the Summer 2021 Second Nature Adventure Challenge to help raise money for youth outdoor programming in the Maine West region.
The Community Challenge
Because we know people sometimes need a little extra incentive to make time to get out and enjoy local trails and outdoor activities, the Maine West initiative is challenging people across the Oxford Hills, Bethel/Mahoosuc region, and the River Valley to earn cash rewards for local youth organizations.
If 200 people to sign up and log 500 trail activities between July 4 and Labor Day, we will donate to help our local youth and after school programs get kids outside and enjoying nature.
The Community Reward
Once we meet the goals, Maine West will contribute $3,000 ($1,000 each) to help three local afterschool programs pay for supplies, equipment, and transportation to help kids enjoy outdoor adventures. Beneficiaries of the Summer 2021 Second Nature Adventure Challenge include:
Everyone Can Take the Challenge
All trails listed on Maine Trail Finder in the Maine West region are part of the challenge! With so many trails, you can choose the level of activity that's right for you, whether it's a relaxed walk on a paved path, a rugged mountain hike, a bike ride or a paddle. The trail just has to be in the Maine West region (most of northern Oxford County) and on Maine Trail Finder to count!
It's being out in nature and on the trail that counts – no matter your ability.
Always remember to #recreateresponsibly and check out MTF Stories for tips and tricks for staying safe, cool, and happy out on the trails.
Check out the new Mahoosuc Way – Embrace Our Place Pledge as a great way to share you commitment to being a good steward of the area's nature, cultural and community resources!
The Trails
Check out all the great trails in the Maine West region! There are over 50 walking, hiking, biking and paddling opportunities.
We know there are even more great trails than show up on these maps, and we hope you enjoy them! For tracking purposes, only trails included in the Maine Trail Finder system count toward the challenge.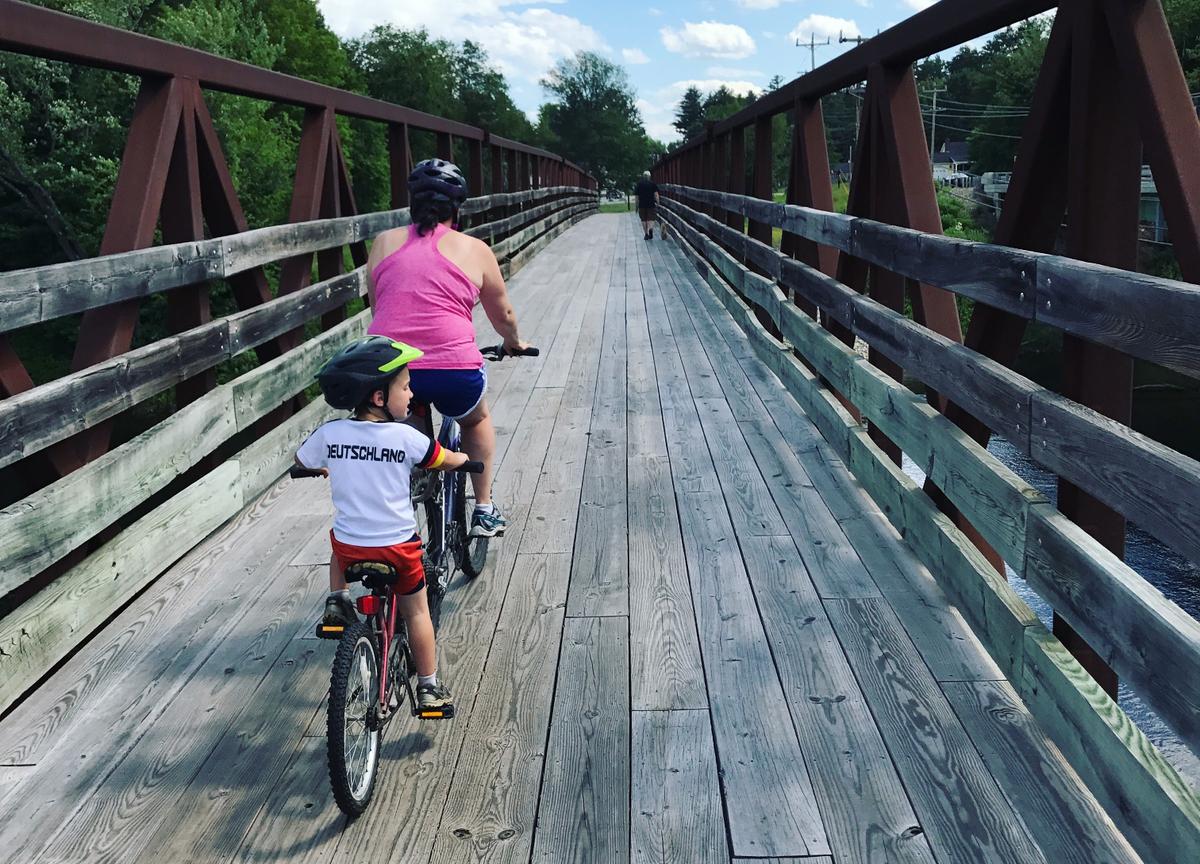 Biking over the bridge on the Bethel Pathway.
How does it work?
First
Join the Second Nature Adventure Challenge. You only have to sign up once!
(If you participated in a previous Challenge, please sign up for this new one. We're glad to see you back!)
All participants will need a free MTF account. Click here to register if you haven't already.
SECOND
Get out and enjoy one of the challenge trails!
THIRD
Log your trail! When you get back to your phone or your computer, sign into your MTF account and log the trail. You can log the trail from your account page (click Add New Trail Log in the Trail Log tab) or from the trail page (click the Add New Trail Log button in the orange banner).
You can get to the trail page by clicking the pin for the trail on the map above or going to our Find Trails page and searching for it.
If you have trouble logging trails, click here for more detailed information about MTF Accounts. If you are still having trouble, you can always Contact Us.
share the challenge with a friend!
Encourage your neighbors and friends to #givebackwhentheygetoutside by joining the challenge and logging at least one trail before September 6th!
About Maine West
The Second Nature Adventure Challenge is a project of Maine West – a partnership of local and regional organizations working to enhance community well-being in western Maine through increased collaboration across the economic, education, health and conservation sectors.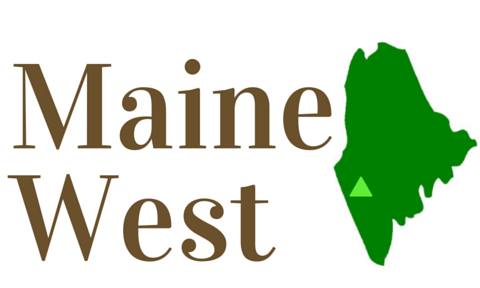 Maine West works across the Oxford Hills, River Valley and Bethel-Mahoosuc areas of northern Oxford County, to provide network-based, collaborative programming in three focal areas:
Active Communities – improve local health outcomes, encourage youth and school groups to get outside and exercise, promote recreation on local conservation lands, and position rural communities as attractive places to live and raise families.
Broadband Access & Adoption – expand access to and utilization of high-speed internet services as a means of creating jobs and supporting public safety, education, healthcare, tourism and overall quality of life.
Educational Aspirations & Attainment – expand learning opportunities and improve the linkages between schools, communities and local businesses.
Maine West Partners
Northern Forest Center (coordinator)
Community Concepts Finance Corp.
Appalachian Mountain Club
Androscoggin River Watershed Council
Bethel Area Chamber of Commerce
CORE
Inland Woods + Trails
The Trust for Public Land
Oxford County Wellness Collaborative
Western Foothills Land Trust
Appalachian Trail Conservancy
University of Maine Coop. Ext., Bryant Pond 4-H Camp
Mahoosuc Land Trust
Region 9 Adult Education
Oxford County Mental Health Services
River Valley Healthy Communities Coalition