Description
There are two trailheads at Mill Field. To proceed around the loop in a counter-clockwise direction, take the trail to the right. The Sluiceway Trail ascends very gently through the woods for 0.4 miles before reaching the first trail junction. The Sluiceway Trail continues to the left for 0.5 miles, climbing steeply in places, and at times along a small stream. This is the most direct route to the Bernard summit.
Alternatively, a right at the first trail junction leads 0.1 miles to the Great Notch Trail, which heads to the left at this second junction. It proceeds 0.5 miles up to Great Notch. Upper portions of this trail may be quite wet during the spring or after a heavy rain. Great Notch itself lies between the two peaks of Western Mountain, Mansell to the east and Bernard to the west. It is a good resting spot, with a log bench and a hiker register in a box on a tree.
The Bernard Mountain trail leaves Great Notch to the left (west), steeply climbing up the side of the mountain over cliffs and tree roots. It meets up with the Sluiceway Trail on the left after 0.4 miles. Just beyond is a view point on the right, overlooking the western-most portions of Mount Desert Island. The views are somewhat impeded by the recent growth of some newer hemlock trees. From this overlook, it is a relatively flat 0.1 miles to the forested summit.
The Bernard Mountain Trail heads down to the south, turning left upon meeting up with the West Ledge trail after 0.5 miles. It is 1 mile through the woods back to the trailhead from this junction, with the trail alternating between moderate and steep descents, and crossing a couple wooden footbridges near its end.
The loop via continuing up the Sluiceway trail is 2.5 miles; it is 2.9 miles via Great Notch.
Other Information
Geocaching is prohibited within Acadia National Park; however, the park does sponsor an EarthCache Program for those seeking a virtual treasure hunt!
Trail Manager
For more information, visit the Acadia National Park website, or contact: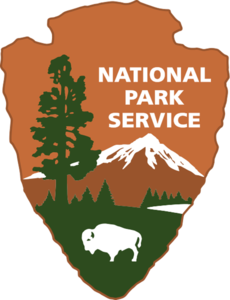 National Park Service, Acadia National Park
PO Box 177
Bar Harbor, ME 04609
Phone: (207) 288-3338
acadia_information@nps.gov