What is Love Maine Trails Month?
Love Maine Trails Month (LMTM) is a collective month of stewardship where volunteers and staff of trail stewardship groups come together to perform a variety of projects, raising awareness of the ethic of care and magnitude of scale required to maintain Maine's trails. Love Maine Trails Month is organized by the Maine Trails Coalition.
When is Love Maine Trails Month?
Thursday, June 1 - Sunday, July 2, 2023
Kick off: National Trails Day, Saturday, June 3, 2023
The second annual Love Maine Trails Month will take place from Thursday, June 1st through Sunday, July 2nd, 2023. Kick-off events will take place on National Trails Day on Saturday, June 3, 2023 with a few organizations hosting trail work projects on that date.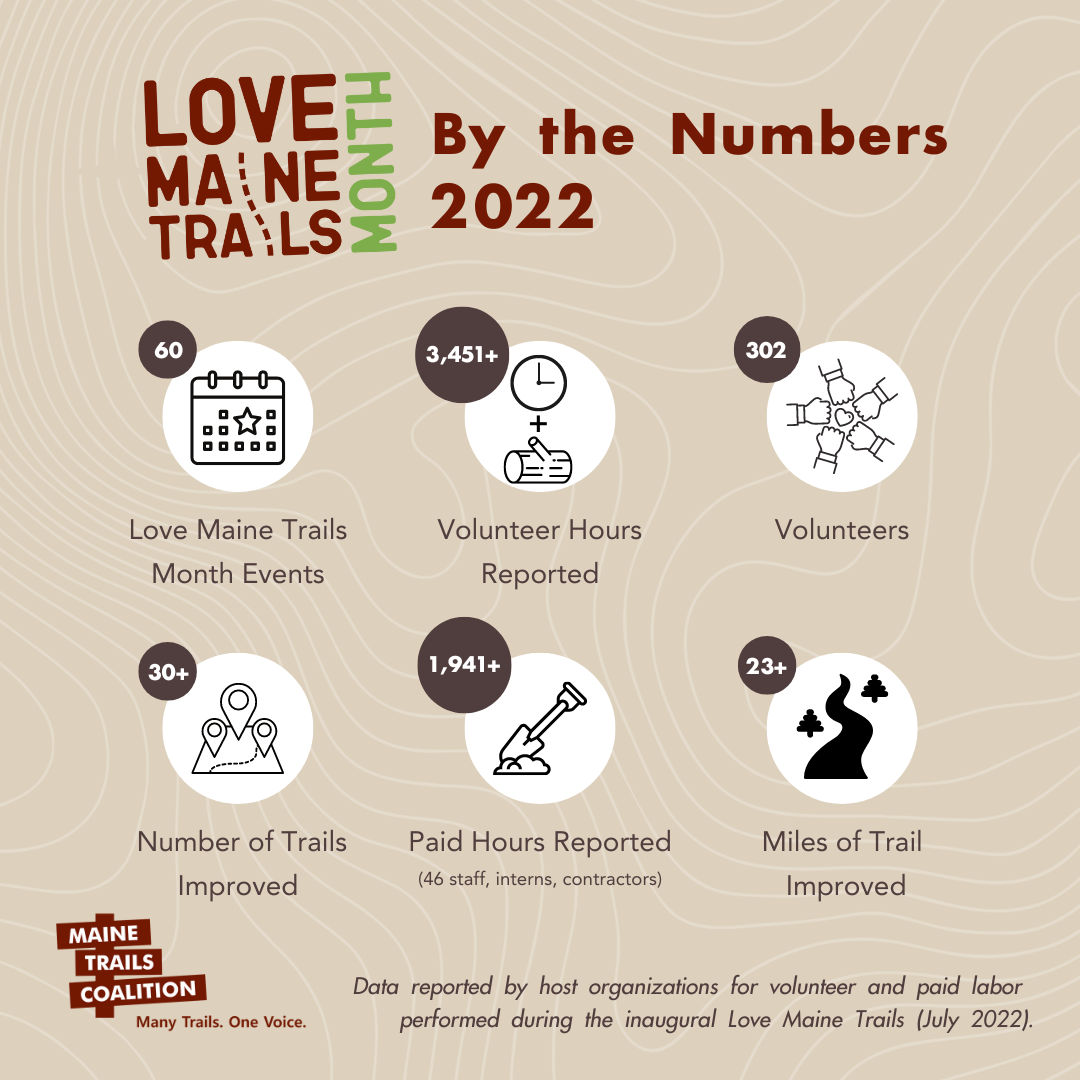 There are two ways to participate:
Volunteer for a work day
Host a trail work day
For Volunteers
Can you volunteer during Love Maine Trails Month?
Your effort will make a big difference to Maine's trails! Visit the Maine Trail Finder Love Maine Trails Month calendar to find a volunteer opportunity near you.
A variety of trail work projects will be available for volunteers of all ages and all are invited to attend a work day during Love Maine Trails Month. No prior trail work experience is needed for many of the trail work projects during this special month, just a willingness to learn and a desire to care for Maine's trails.
Volunteers who log their LMTM participation through Maine Trail Finder will earn a Virtuous Volunteer Badge and be put into a drawing for prizes from participating Maine Outdoor Brands. Follow the Maine Trails Coalition on Facebook or Instagram for more details.
To earn a Virtuous Volunteer Badge:
Create a free MTF account if you don't already have one, and log-in.
Go to "My Trail Log" in your account.
Click "Add New Trail Log" and be sure to choose "Trail Maintenance" under "Trail Activity"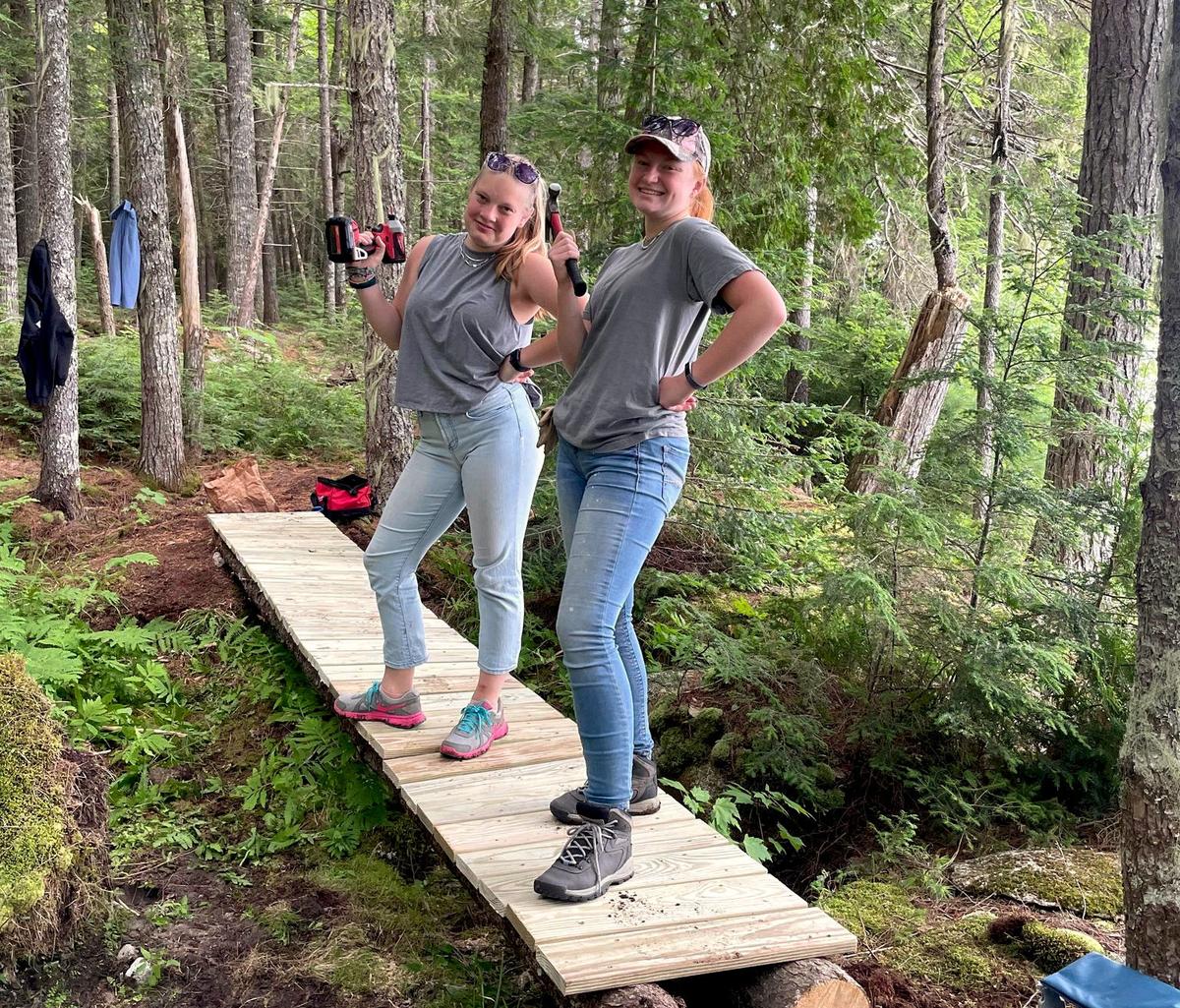 Volunteering for the Downeast Lakes Land Trust. Photo credit: Susan Bard.
For Organizations
Can Your Organization or Group Host A LMTM Event?
If your organization would like to host a Love Maine Trails Month trail work day, please visit the Love Maine Trails Month Host Page for further details. Let's work together to engage volunteers on your critical trail projects and tell the story of the efforts that go into taking care of the trails we love here in Maine.
---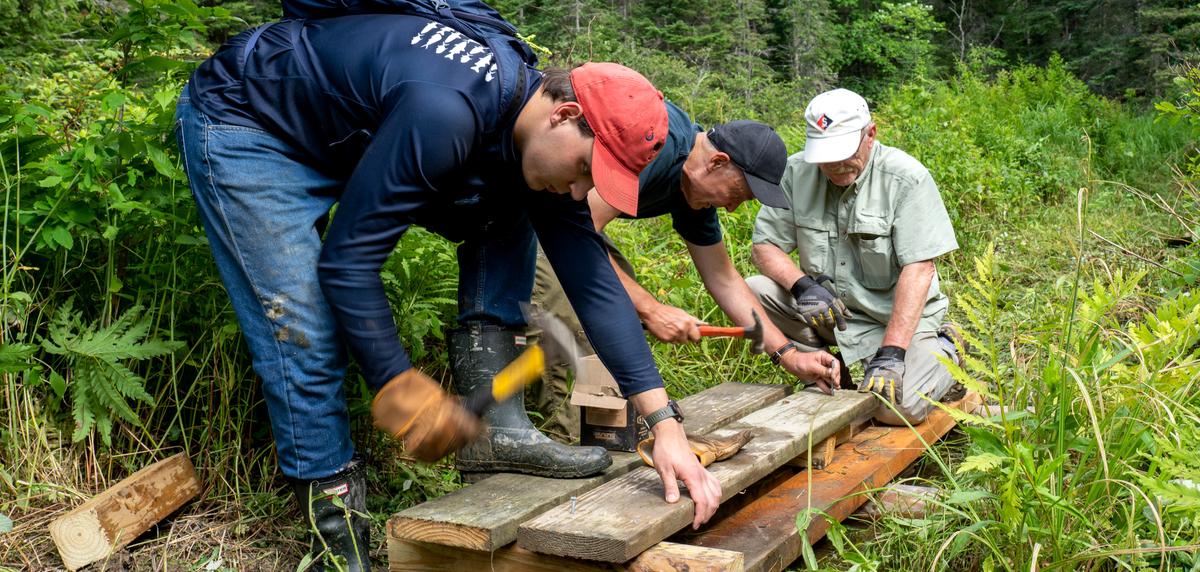 Work Day at Kelsey Brook. Photo credit: Kelly Sink