Description
The first section of the trail is forested and gradually steepens as it ascends the ridge. At the junction with Eagle's Crag there is a 0.3 mile spur trail (Eagle's Crag Loop Trail) to the right which rejoins the South Ridge Trail 0.2 miles up the trail. The Eagle's Crag Loop Trail leads to an overlook on the top of a rocky ledge which provides wonderful views of the the forest below and the ocean further out.
Continuing on the South Ridge Trail, the forest becomes more open. The trail briefly descends to a small pond called The Featherbed, where there is a wooden bench for taking a break and enjoying the pond. From here there is a steep and rugged section as it ascends the exposed granite. Most of the remainder of the hike is a moderate ascent above treeline along the ridge, with excellent views of the ocean and outlying islands. The trail becomes rugged again as it descends, crossing an old road, and then ascends to the summit. From the summit there is a gravel access road to the summit parking area. The hike returns to ME Route 3 via the same route.
Other Information
At 1,530 feet Cadillac Mountain is the tallest mountain on the eastern seaboard of the United States. The true summit is to the left where the South Ridge Trail opens onto the gravel access road. Look for 2 survey benchmarks established by the US Coast and Geodetic Survey in 1856 and the 1954 US Geological Survey summit marker. To the east of the true summit is where one of several summit hotels stood in the 1880s. Please explore the area carefully, staying on the granite and leaving what you find for others to enjoy.
Dogs are allowed on the trail on a six foot leash.
Geocaching is prohibited within Acadia National Park; however, the park does sponsor an EarthCache Program for those seeking a virtual treasure hunt!
Trail Manager
Visit Acadia National Park online for more information or contact: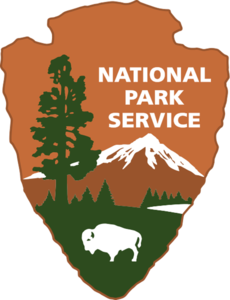 National Park Service, Acadia National Park
PO Box 177
Bar Harbor, ME 04609
Phone: (207) 288-3338
acadia_information@nps.gov