Description
The Appalachian Trail crosses ME-17 approximately 100 feet south of the parking area. Always walk behind the guardrail and take care when crossing the highway to reach the trailhead.
From the east side of ME-17, the Appalachian Trail travels up and over Spruce Mountain, a small climb with a few ledges. The trail crosses a small dirt road and then traverses through a beautiful lowland spruce-fir forest and along the shore of the small, but beautiful, Moxie Pond. This section can be wet and muddy in spring or after rain events. The trail then rises up and over the steep and rocky Bates Ledge before heading downward again toward Long and Sabbathday Ponds. Both ponds offer beautiful views and swimming opportunities. Sabbathday Pond Lean-to is off of a side trail just after the trail reaches Sabbathday Pond.
View the Four Ponds Public Land page on BPL's website.
Other Information
Do not underestimate the difficulty of hiking the Appalachian Trail (A.T.) in Maine. Be sure to carry equipment and supplies necessary for this undertaking and be prepared for challenging weather conditions. Please educate yourself before hiking, so that you can have the knowledge and skills necessary for an enjoyable and safe hike. Fires are only allowed in the provided fireplace ring at established campsites; it is illegal in Maine to build a fire elsewhere.
The Appalachian National Scenic Trail runs from Maine to Georgia along the spine of the Appalachian Mountains. It is managed cooperatively by the National Park Service, the Appalachian Trail Conservancy, and 31 trail-maintaining clubs along with other federal and state land managers whose land the trail crosses. Over 3 million people visit the A.T. every year. Since its inception in the 1920s, thousands of volunteers have worked tirelessly to maintain, manage, and protect the Appalachian Trail.
In Maine, the all-volunteer Maine Appalachian Trail Club (MATC) maintains and protects the 267-mile section of the Appalachian Trail extending from Katahdin in Baxter State Park to Grafton Notch at ME-26. In addition, MATC maintains over 60 miles of side trails as well as a system of regularly-spaced shelters and campsites to preserve access to wild, backcountry hiking in Maine. MATC publishes The Official Appalachian Trail Guide to Maine, which includes seven maps, please visit their website for information on how to purchase the guide or to learn more about becoming a member of MATC.
Trail Manager
Visit Maine Appalachian Trail Club online for more information or contact: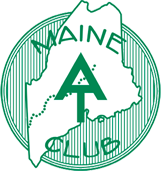 Maine Appalachian Trail Club (MATC)
PO Box 7564
Portland, ME 04112
info@matc.org
View website