Description
After crossing ME Route 4, head northbound on the Appalachian Trail. It is a steady climb to Piazza Rock Lean-to, 1.8 miles away (see Piazza Rock Hike for more details). From the lean-to, the trail continues to Ethel Pond, a small pond located in a bowl surrounded by ridges. The trail passes along the pond's west shore, on your right and then continues northbound, through a small bog passing by the east shore of Eddy Pond on your left. Then the "real" work begins with a steep hike up to the "treeline". Use caution for the next mile during inclement weather as the Trail traverses glacially smoothed bedrock. Pay close attention to the rock "cairns" and take great care to protect the fragile alpine environment by not wandering off of the Trail. Upon reaching the summit of Saddleback Mountain, elevation, 4,120', excellent views north to Katahdin and south to Mount Washington present themselves.
Other Information
Do not underestimate the difficulty of hiking the mountains of Western Maine. Be sure to carry equipment and supplies necessary for this undertaking. If you do not have the information or skills, be sure to research and educate yourself in order to have an enjoyable and safe hike. Be very aware of past, present, and predicted weather. Though the preserve is managed only for summer-time uses, winter uses like cross-country skiing, snowshoeing, and winter camping are allowed and popular.
Fires are only allowed in the provided fireplace ring at the Piazza Rock Lean-to. In the state of Maine, it is illegal to build a fire anywhere except within a certified fire ring. Camp stoves are permitted. Camping is not allowed above the tree line (a very delicate and vulnerable area to hike in), please stay on the trail.
The Maine Appalachian Trail Club (MATC) is an all volunteer organization that exists to maintain and protect the 267-mile section of the Appalachian Trail in Maine extending between Katahdin in Baxter State Park and Grafton Notch at ME Route 26. In addition, MATC maintains over 60 miles of side trails as well as a system of regularly spaced shelters and campsites in order that wild, backcountry hiking remains accessible in Maine. MATC publishes The Official Appalachian Trail Guide to Maine, which includes seven maps, please visit their website for information on how to purchase the guide or to learn more about becoming a member of MATC.
Trail Manager
Please contact the Bigelow District Overseer by email (bigelow@matc.org) to report any trail or shelter conditions that may require maintenance or special attention.
Visit Maine Appalachian Trail Club online for more information or contact: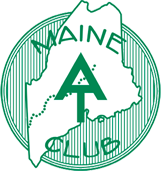 Maine Appalachian Trail Club (MATC)
PO Box 7564
Portland, ME 04112
info@matc.org
View website