Description
From the Eastside Boat Landing Park, the Augusta Greenway Trail goes both north to Old Fort Western and south along the river, passing under Memorial Bridge and along the snow dump. Heading south, the trail takes a fairly straight and level path under a canopy of box elders and other hardwood trees.
At about the halfway point, the trail climbs a slight rise and comes into an open area, passing by the Kennebec Arsenal site. The Arsenal grounds are currently closed to exploration, but the trail across the property is open to trail users. Just south of the open Arsenal area and adjacent parking lot (closed to vehicles), the trail swings left up a small hillside before joining the sidewalk along Arsenal Street. This point serves as the current end of trail, though there are sidewalk connections (see below).
Other Information
The trail can link with the attractive trail network at the Viles Arboretum located on Hospital Street; simply walk the sidewalk along Arsenal Street through the Eastside state office complex and cross Hospital Street to reach the Arboretum (approximately 0.5 miles).
The Kennebec Arsenal is a collection of eight granite buildings and the recently-restored retaining wall and wharf, which dates back to the Northeast Boundary Conflict and is the best surviving example of an early nineteenth century munitions depot. The open views provide an attractive look at the river, downtown Augusta, and the Capitol Dome. Look for massive and prehistoric sturgeon leaping out of the river during summer months.
Trail Manager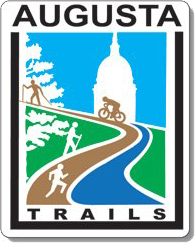 Augusta Trails
PO Box 817
Augusta, ME 04332-0817
Phone: (207) 626-2305
Steward.AugustaTrails@gmail.com
View website