Description
The Bald Mountain Trail is within the Bald Mountain Public Reserved Land located between the historic Rangeley and Mooselookmeguntic Lakes. It is only a mile from the trailhead to the summit. Hikers can enjoy panoramic views of the surrounding Rangeley, Cupsuptic and Mooselookmeguntic Lakes as well as Maine's Saddleback Mountain, Elephant Mountain, the Height of Land, and New Hampshire's Mount Washington in the White Mountains. This trail is especially popular in the fall when the autumn colors are in full swing and moose and deer are commonly seen crossing the forested slopes.
Although Bald Mountain's stature is less imposing than some of its majestic neighbors, Bald Mountain still offers a challenging and rewarding hike for the outdoor enthusiast. The trail starts off easy and gradually increases in difficulty as you reach the top. The lower segments of the trail pass through mature northern hardwood trees such as sugar maple and white birch. The summit area's forest is dominated by scrubby red spruce. On the bare granite summit, a picnic table provides a great place for a meal and an observation tower offers spectacular views for hikers.
The alternative start at the boating parking lot near Haine's Landing adds some distance to the overall hike, as it involves roughly one mile of trail before joining the main trail 1200 feet above the primary Bald Mountain parking lot. This trail passes through dense softwood, open logging road, bog, and young hardwoods while following a gentle slope. It includes bog bridging to cross wet areas. There is evidence along the trail of the mountain's former life as a minor ski hill decades ago.
View the Bald Mountain Public Land page on BPL's website.
Other Information
Bald Mountain is part of the Maine Birding Trail. The upper segments of the trail are well-suited to a number of boreal species such as spruce grouse, gray jay, boreal chickadees, blackpoll warblers, and more.
During the hunting season (October through November) be sure to wear blaze orange gear that lets hunters easily see you.

Natural Heritage Hikes is a project of the Maine Natural Areas Program in partnership with Maine Trail Finder. View the "Bald Mountain Trail" guide online here.

This trail passes through a property that was acquired in part with funds from the Land for Maine's Future program. For more information about the LMF program and the places it has helped to protect, please visit the LMF webpage.
Trail Manager
Visit Bald Mountain Public Reserved Land online for more information or contact: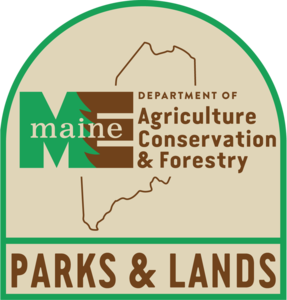 Maine Bureau of Parks and Lands, Western Public Lands Office
PO Box 327
Farmington, Maine 04938
Phone: (207) 778-8231
Tim.Post@maine.gov
View website