Description
A 136-acre preserve offering woodland hiking trails and views of the Sheepscot River. Follow the series of eight birdhouses to Nelson Brook and then follow the old logging road down to the old fishing camp on the banks of the river. The property and trails are owned and maintained by Midcoast Conservancy.
White Trail (0.8 miles): The White Trail is the main trail leading from the Kiosk through hay fields to the network of forested trails on the Preserve. The section of trail through the fields is an easement, with the surrounding field privately owned. The field is managed for grassland birds and nesting swallows and bluebirds. Once into the forest the trail follows old logging roads in places before descending to the Sheepscot River. The Blue Trail which departs from the trail is a short cut (0.4 miles) to the river that is steeper and more strenuous than the White Trail.
Red Trail (0.2 miles): A side trail which provides access along a more moderate path, this trail passes through mixed forests with rocky ledges covered in moss and ferns.
Turquoise Trail (0.9 miles): This trail departs from the Red Trail near the river, and extends to the northern end of the property. It provides beautiful views of the Sheepscot River as it passes along the banks through mature pines and oaks. Evidence of past beaver activity is found at the north end before the trail leads back up the hill through small fields and along old logging roads. Mixed forests and shrubby habitats are found along this route, providing good birding opportunities.
Other Information
Leave No Trace: please carry out what you carry in and do not take souvenirs. There are no facilities at this property. The Kiosk at the parking lot has maps and information. As hunting is permitted, both hunters and hikers should use extreme caution during hunting season.
Dogs should be under control of their owners at all times and clean up after your pets. Please keep your dog leashed through the field as this is private property and used by a diversity of ground nesting birds in the spring and summer; do not disturb the nest boxes which line the trail through the field.

This trail passes through a property that was acquired in part with funds from the Land for Maine's Future program. For more information about the LMF program and the places it has helped to protect, please visit the LMF webpage.
Trail Manager
Visit the Midcoast Conservancy website for more information or contact: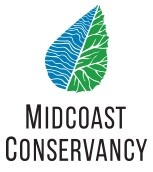 Midcoast Conservancy
290 US Route One
PO Box 439
Edgecomb, ME 04556
Phone: (207) 389-5150
View website