Description
At 2890 feet in elevation, Blueberry Mountain is one of the lesser known and hiked trails in the Weld region. However, the summit offers some of the best views of the Maine High Peaks Region. On a clear day hikers can see the nearby peaks of Jackson, Tumbledown, Bald, and Mt. Blue, as well as more distant peaks including, Saddleback, Spaulding, Mt. Abram, North and South Crocker, Sugarloaf, and on very clear days the Bigelow Mountains Range and Mt. Washington in New Hampshire.
The Blueberry Mountain Trail leaves from the Blueberry Mountain Bible Camp parking lot. There is no sign but with the main lodge behind you, look for a path to the right of the parking lot that leads to an athletic field. Follow this into and directly across the field into a hardwood forest, where the path continues following an old woods road. After about 100 yards the trail bears right leaving the woods road, and begins to climb steadily. Dark blue paint blazes on rocks and trees mark the way, and even though these are spaced at long intervals, the trail is clearly trodden from years of use, and it is not hard to locate.
The trails passes through Maple, Yellow-birch, and Gray birch forest stands, and hikers have a good chance of seeing signs of wildlife on the way. At higher elevations, spruce, fir, and white birch dominate the forest stands before the trees give way to low scrub and blueberry bushes.
Once above tree line, follow the cairns (rock piles) to the summit which is recognized by its large cairn, geological survey marker, and spectacular views.
Other Information

This trail passes through a property that was acquired in part with funds from the Land for Maine's Future program. For more information about the LMF program and the places it has helped to protect, please visit the LMF webpage.
Trail Manager
Visit Maine Bureau of Parks and Lands online for more information or contact: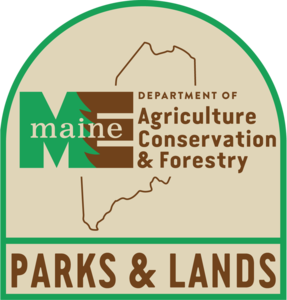 Maine Bureau of Parks and Lands, Western Public Lands Office
PO Box 327
Farmington, Maine 04938
Phone: (207) 778-8231
Tim.Post@maine.gov
View website