Description
Bradbury Mountain State Park has over 15 miles of shared use trail. Maine's first park with 10 miles of single track, offers bikers options for all ability levels. Most of these trails are located on the east side of Route 9.
O Trail (2.4 miles loop, advanced): The most technical single track trail is the "O" trail. This 2.4 mile loop is fairly flat has some hairpin turns, goes through a rock garden and challenging all to keep upright on their bike.
Lanzo Trail (1.6 miles, moderate): The 1.6 mile Lanzo Trail traverses through a mixed growth forest and is fairly level. There are a few sharp turns, a couple of bridges to cross but generally allows for good flow when riding along this single track.
Ragan Trail (0.7 mile, moderate): The rider then can cross over to the Ragan Trail, a 0.7 mile trail, fairly flat single track that passes though a hardwood forest. There is a challenging bridge for those not afraid of heights, but also an alternative route around this obstacle.
Ginn Trail (2.6 miles, moderate): The Ginn Trail is a 2.6 mile trail that follows through a mixed growth forest. There are several small bridges, skinnies and a small climb along this trail.
Fox East and West (2.6 mile loop, advanced): Fox East and West is a 2.6 mile loop through a 150 acre parcel generously donated by the Spiegal Family. This loop has several bridges, some small ascents and descents, skinnies, many bridges and a few obstacles along the way. The East trail is more challenging than the west.
Knight Woods (1 mile, easy): For those bikers less experienced, there are several double track trails that are less challenging and more family friendly. The 1 mile Knight Woods Trail on the east side of Route 9, is a 6' wide trail less traveled by the hiker with several interpretive panels along the way providing a brief history of the area.
Northern Loop (1 mile, easy): On the west side of Route 9, the 1 mile Northern Loop provides a gradual ascent to the summit of Bradbury.
Tote Road (1 mile loop, easy): From the Summit, the Tote Road Trail is a 1 mile loop within the interior of the park through a softwood forest. These trails are used much more frequently by all users, so please use proper etiquette when meeting these other visitors.
Switchback (0.3 mile, advanced): For those that would like a challenge from the Summit, the 0.3 mile Switchback Trail provides some tight turns and ledge surfaces while descending the 200' drop back to the parking lot.
View the Bradbury State Park page on BPL's website.
Other Information
Please follow proper trail etiquette and respect hiker and equestrian users. Please stay on marked trails and respect park property. During spring thaw and rainy conditions, check with the park about trail closures. Also be aware that the trails on the east side of Route 9 are open to hunting during the firearm season. We suggest using the trails on the West Side of Route 9 during this time as they are closed to hunting. There is a bike wash station located at the south end of the upper parking lot to clean your bike after an exhilarating ride.
Pets must be leashed at all times when at the park.

This trail passes through a property that was acquired in part with funds from the Land for Maine's Future program. For more information about the LMF program and the places it has helped to protect, please visit the LMF webpage.
Trail Manager
Visit Maine Bureau of Parks and Lands online for more information and a printable map or contact: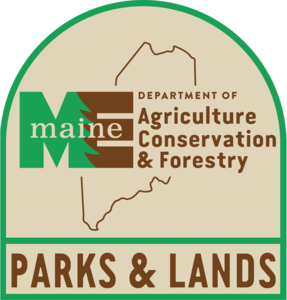 Maine Bureau of Parks and Lands, Bradbury Mountain State Park
528 Hallowell Rd.
Pownal, ME 04069
Phone: (207) 688-4712