Description
The Public Forest is 239 acres and currently has 5 marked hiking trails, which are being improved at this time. Additional trails are planned to create linkages between the current trails.
Tote Road (0.7 miles, easy): This is the main gravel/grass road that runs through the property connecting all of the hiking trails. A gate marks the end of the road and edge of the property.
Marsh Trail (0.2 miles, moderate): This is the first trail on the left side as you travel the Tote Road. It passes along a recent log cut and through mossy, rocky terrain to the property boundary. A short walk along the boundary to the right brings you to the edge of an open marsh. This trail is currently flagged and the boundary is blazed in blue.
Pine Trail (0.3 miles, moderate): This is the second trail on the left side of the Tote Road, about 0.5 miles from the parking area. Bog bridging and short coniferous trees lining the trail make this a pleasant way to connect back to the Tote Road after it turns south to its end.
Brookside Trail (1.6 miles round-trip, moderate): This trail leaves the Tote Road headed North and follows alongside a brook before crossing it and heading toward Branch Lake. After a series of bog bridges, a short loop passes alongside the lake and a canoe landing before heading back inland. This trail is currently flagged, not blazed.
Lake Loop Trail (1.0 miles round-trip, moderate): This trail starts across the Tote Road from the west end of the Pine Trail. Passing through rocky terrain and over bog bridges, it is a pleasant hike to the fork in the trail, about 1 mile from the parking area. From there, walk to and along Branch Lake before returning to the Tote Road.
Other Information
In 2010, Frenchman Bay Conservancy collaborated with the City of Ellsworth, the Trust for Public Land, and the Forest Society of Maine in order to protect Branch Lake. Branch Lake is the singular source of drinking water for Ellsworth, eastern Maine's largest coastal city. The lake also serves as a significant fishery for salmon, togue, and bass angling and other public recreation.
Trail maps are available on the City of Ellsworth website.

This trail passes through a property that was acquired in part with funds from the Land for Maine's Future program. For more information about the LMF program and the places it has helped to protect, please visit the LMF webpage.
Trail Manager
Visit Frenchman Bay Conservancy online for more information or contact: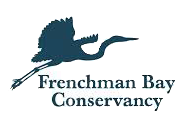 Frenchman Bay Conservancy
71 Tidal Falls Road
PO Box 150
Hancock, ME 04640-0150
info@frenchmanbay.org
View website