Description
Both the Lapham Ledge Trail and the Buck's Ledge trail begin on a gravel logging road that also serves a snowmobile trail.
To hike the Lapham Ledge Trail, depart from the gravel road just past the parking lot at the "Lapham Loop" sign directing hikers to the right. After 0.3 miles you'll arrive at a junction. A spur trail to the right leads to the Ledges where there are views to the south and east. The Lapham Loop continues north at this junction and meets the gravel road after another 0.5 miles. To return to the parking lot, take a left at the gravel road and continue for 0.5 miles. Alternatively, take a right on the gravel road and continue for 0.2 miles to the Buck's Ledge Trail, which leaves the road to the left at a sign.
To hike the Buck's Ledge Trail, continue past the Lapham Loop sign and walk straight along the gravel road. At 0.7 miles, at the high point of the saddle between Lapham and Buck's Ledges, the Buck's Ledge trail leaves the road to the left at a sign.The trail continues 0.6 miles to the the top of a long ledge, with views of North and South Ponds, Mount Abram, and the Mahoosuc and White Mountains in the distance. There are peregrine falcons nesting in the ledges below, and they are often seen soaring or perching in a nearby dead tree. From this ledge you can either retrace your steps back to your car, or continue on down the west end of the ledges. The trail down the west end of the ledges is not as well marked, but with attention is easily followed off the ledges and then steeply down to the Mann Road. Follow this road past several camps back to ME Route 26. Turn left on ME-26 and walk 0.25 more miles back to the parking area. From the ledges it is the same distance back to the parking area either way. Doing the trail as a loop has its benefits, but includes road walking. Retracing your steps and taking a side trip up Lapham Ledge is another option.
Other Information
These trails cross privately owned land and is open to the public through the generosity of the landowner. Please respect trail and land to ensure that the trail can remain open for public use; stay on the established trail, carry out all trash, follow instructions on signage, and do not disturb plants or wildlife. Thank you for doing your part to keep this land available for public use.
A harvesting operation has required a couple of reroutings of the Bucks Ledge Trail, but it is well-marked with flagging tape and signs. These trails are often snowshoed in winter. Bear in mind that part of the logging road is also a snowmobile trail.
Trail Manager
The trail is maintained by members of the Woodstock Conservation Commission. For more information contact: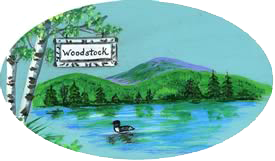 Town of Woodstock, Woodstock Conservation Commission
PO Box 180
Woodstock, ME 04255
Phone: (207) 665-2668