Description
The trails in the Caribou Bog Conservation Area offer year-round recreation in varied forest that includes Newman Hill, Bangor Hill and the Bog. In summer, excellent mountain biking and hiking are available along the old rail bed and along the singletrack trails up the two hills. In the winter, an extensive network of groomed ski trails extends along the rail bed and through the bog. Marked snowshoe trails criss cross the property, offering plenty of opportunity for more contemplative exploration.
Trails in the Bog are wet in the summer and are for winter use only. The summit of Newman Hill offers an excellent viewpoint across Pushaw Lake and Hermon Mountain.
Dogs need to be under control of their owners and are not allowed on groomed trails. Carry in - Carry Out is required.
Other Information

This trail passes through land that was acquired in part with funds from the Land for Maine's Future program. For more information about the LMF program and the places it has helped to protect, please visit the LMF webpage.
Trail Manager
Visit Orono Land Trust online for more information and a printable map or contact: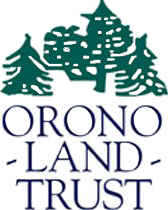 Orono Land Trust
PO Box 4
Orono, ME 04473
oronolandtrust@roadrunner.com
View website