Description
The Cataracts Trail is a short, rugged hiking trail accessing numerous pools and drops along Frye Brook. At the top of the trail, a small day-use area including a picnic table and outhouse provides a spot to relax, have a picnic, and enjoy the sounds of the tumbling brook.
The trail begins near the bridge where East B Hill Road crosses Frye Brook and follows the east side of the brook. Going up the trail there are several scenic overlooks of the clean boulders and tumbling water of the brook. There are a few wet areas and several short, steep sections of trail that climb over and around small rock ledges. Roots are prevalent in many sections of the trail.
Hikers have several opportunities to enjoy the brook along the trail. Near the picnic area, there is a particular scenic miniature gorge and pool. Given the steep drops around the area there is a wooden railing at the picnic are to help prevent accidents, but users should use caution near any overlook along the trail as soils and rocks may be wet and slippery.
The picnic area effectively marks the end of the maintained trail. Please note that this trail is not a designated side trail linking to the Appalachian Trail (AT). Formerly, this trail was part of the Appalachian Trail, but the AT now is located several miles to the north, following the north ridge of Surplus Mountain.
To return to the trailhead and parking, travel back down the trail.
View BPL's map and guide for Grafton Notch State Park and Mahoosuc Public Lands.
Other Information
The Cataracts Trail is part of the Mahoosuc Public Lands, which surrounds Grafton Notch State Park. Together, these two properties managed by the Maine Division of Parks and Public Lands encompass nearly 35,000 acres and include miles of hiking trails through spectacular terrain.
The forest management road adjacent to the lower sections of the trail is a vital link to large areas of timber seasonably harvested by private contractors under the supervision of a Maine Public Lands forester. Revenues from timber harvesting on Public Lands supports land management, including the management of recreational trails and sites. It is possible for hikers to return to their cars using the forest management road, which can be reached by walking past the outhouse near the picnic area. Travel down the road to the parking area. While this road is not maintained for recreational purposes, it is open to any who are interested in Division forestry operations or who simply want to return by a different route.
Trail Manager
Visit Maine Bureau of Parks and Lands online for more information and a printable map or contact: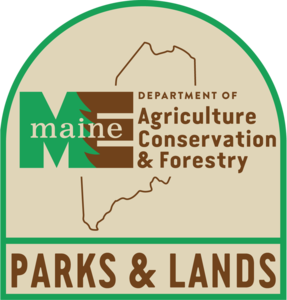 Maine Bureau of Parks and Lands, Western Public Lands Office
PO Box 327
Farmington, Maine 04938
Phone: (207) 778-8231
Tim.Post@maine.gov
View website