Description
Just twenty minutes from Portland, these two adjacent state parks offer magnificent views of the Maine coast and provide many recreational opportunities. The mile-long sandy crescent-shaped beach is perfect for a stroll, swim, and sun bathe.
At the western end of Crescent Beach State Park, one can explore a rocky area for small sea creatures or find a trail that takes the hiker through a meadow that continues offering fantastic views of the water, an old apple orchard, and nearby Richmond Island. The meadow is periodically mowed to continue its abundance of milkweed, attracting many monarch butterflies each late summer and fall. Milkweed is the only plant that its larvae can eat and is essential to the life cycle of this butterfly. This short trail will lead to an old fire road that meanders through the woods and ends on the entrance road to the park. The hiker can return along this entrance road to the main parking area.
Just to the west of the park's facilities there is a gravel service road located immediately behind the sand dunes that park staff frequently use. This road provides a peaceful walk that passes by wetlands where bird watching is optimal.
The service road that heads east from the park's facilities heads to Kettle Cove State Park; turn right at the end of the service road to walk to the end of Ocean House Road. If a visitor chooses to drive to Kettle Cove State Park via Ocean House Road, it is important to keep in mind that this small parking lot can fill quickly and is shared with a busy boat launch used by area lobstermen.
Kettle Cove, while small, offers additional spectacular ocean scenery, a grassy area, and an excellent area for tidal pool exploration. At the far end of the parking lot there are two trail heads that will take the hiker into a small network of gentle trails offering the opportunity to view yet another hidden cove.
View the Crescent Beach State Park page on BPL's website.
Other Information
These areas, although heavily visited, always offer excellent opportunities for peaceful, easy walking. Please be courteous of all park boundaries and park rules, which can always be found easily posted nearby. Crescent Beach State Park is open seasonally between Memorial Day and Labor Day. Visitors are welcomed to use the trails and beach in the off-season and are asked to park well off from the the road. Kettle Cove is plowed for parking in the winter months.
Pets are welcome at the park on a 4 foot leash but are not allowed on the beach from April 1-September 30.
Trail Manager
Visit the Maine Bureau of Parks and Lands online for more information or contact: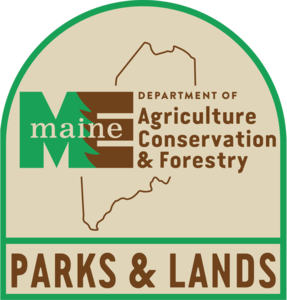 Maine Bureau of Parks and Lands, Cape Elizabeth
7 Tower Drive
Cape Elizabeth, ME 04107
Phone: (207) 799-5871