Description
The coastal portion of the property has hiking trips from 3-10 miles. Wear sturdy footwear and take care near cliffs and on boardwalks, particularly in damp and slippery conditions. The estimated trail times listed below assume a leisurely pace in good conditions with brief stops.
Coastal Trail to Ocean (2.8-mile roundtrip, allow 2 hours): This is a forested path that runs through a cedar swamp and maritime spruce-fir forest before reaching a promontory overlooking the ocean. It is the easiest trail segment offering a visitors' first spectacular view of the ocean from the high cliffs that are prominent along this property.
Black Point Brook Loop (5.5-mile roundtrip, allow 4-5 hours): Wooded trails and rocky cliffside hiking lead to a small cobble beach at Black Point Cove (accessible via a log ladder). The return route, via the Inland Trail, is somewhat rocky but over fairly gentle terrain and through an Acadian forest.
Fairy Head Loop (9.7-mile roundtrip, allow 7-8 hours): This trail provides the most extensive shorefront hiking with 3.4 miles that skirt the shore. At Fairy Head, the trail turns inland through open meadows and forest, passing by a freshwater grass marsh and a large beaver pond.
Other Information
Cutler Coast Public Reserve Land is on what is known as the Bold Coast. For more information about the unique geology of the area and features along the trail, check out the Bold Coast on Maine Geological Survey's website.
The trail system follows many clifftops presenting hazards to those who follow too closely especially in wet or foggy conditions. Be prepared for drastic weather changes and be aware that there is very spotty cell coverage along the trails.
On the forested northern portion of the property, across ME Route 191, there are 19.5 miles of shared-use roads and designated ATV trails, many of them maintained by the East Stream Trail Riders ATV Club. A portion of this system passes through the Ecological Reserve: please remain on the trail to protect the Reserve grasslands and fragile peatbog ecosystems.
Cobscook Trails Project: The trails on Cutler Coast Public Reserved Land are part of a larger network of hiking trails in known as Cobscook Trails. Cobscook Trails is a cooperative project of conservation landowners and community partners that seeks to expand opportunities for nature-based recreation and tourism in eastern Washington County. The group produces "Cobscook Trails: A Guide to Walking Opportunities around Cobscook Bay and Bold Coast Region", a 55 page booklet describing walks on 19 area properties. Find more information about Cobscook Trails, including how to purchase the guidebook, visit: The Cobscook Trails Project.

Natural Heritage Hikes is a project of the Maine Natural Areas Program in partnership with Maine Trail Finder. View the "Cutler Coast Public Reserved Land - Black Point Brook Loop" guide online here.

This trail passes through a property that was acquired in part with funds from the Land for Maine's Future program. For more information about the LMF program and the places it has helped to protect, please visit the LMF webpage.
Trail Manager
Visit the Maine Bureau of Parks and Lands online for more information and a detailed trail guide or contact: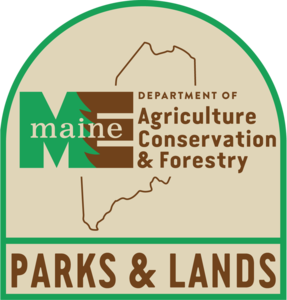 Maine Bureau of Parks and Lands, Eastern Public Lands Office
106 Hogan Road, Suite 5
Bangor, ME 04401
Phone: (207) 941-4412