Description
The trail begins on an old logging road that parallels Wassataquoik Stream, for about 0.3 miles, before taking a right into the woods at the junction with the International Appalachian Trail (IAT). The trail follows the IAT from this point to the summit.
0.2 miles from the turn off the old logging road, the trail reaches the Wassataquoik Stream ford, marked by "FORD" signs on either bank. Walk across the stream toward the "FORD" sign on the opposite bank. After the ford, the trail turns right (southeast) and parallels the stream. Please note: this stream is prone to flash flooding. Use care and do not camp on any gravel bars during rain events. 0.7 miles after the stream crossing the trail turns to the east to begin a moderate climb.
The trail passes an impressive, two-story high chunk of basalt at 2 miles in, named Earl's Erratic for Earl Raymond, of the Maine Chapter of the IAT.
The last 0.75 miles of the trail, from an abandoned fire warden's cabin to the summit, involves a steep climb. The views from the summit are wide-ranging, with Katahdin and the the Turner mountains in Baxter State Park to the west, and the prominent peaks of Mount Chase and Sugarloaf Mountain to the north. The firetower at the summit, constructed by the Maine Forest Service in 1929 and used for detection until 1969, is one of the few ground house lookouts in Maine
Other Information
Pets must be leashed at all times, and are not allowed in or near the huts.
Permits are required for overnight parking and stays at huts. Reservations are made through the National Park Service. Overnight stays are not allowed at the fire tower.
Fires are permitted only in designated sites and require a permit from the Maine Forest Service (Ashland Office, 207-435-7963).
Trail Manager
For more information, visit the Katahdin Woods and Waters website, or contact: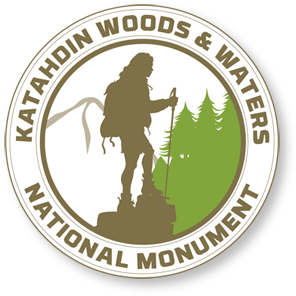 Katahdin Woods and Waters National Monument
PO Box 446
Patten, Maine 04765
Phone: (207) 456-6001
View website