Description
There are four main trails crisscrossing the property.
Old Farm Road Trail (2 mile loop, easy): The Old Farm Road Trail leaves from the parking lot and traverses the interior of the property. This trail is an easy hike along old farm roads used by farmers in the 1800's and loggers in more recent times. It winds through a mixed growth forest with gentle slopes and a large stand of red pine and along the way passes many old stone walls, remnants of farmer's property boundaries. There is also an ice pond off from this trail that was used by residents of the area during the winter for ice that was used in their ice boxes for cold storage prior to the introduction of electricity. Several trails branch off from this main loop providing access to different areas of the property. In addition, this trail is also an excellent trail for snowshoeing and cross-country skiing in the winter.
Ravine Trail (1.2 miles, moderate): The Ravine Trail is a 1.2 mile trail bisecting the property and offers visitors a steeper, more challenging grade. This less often used trail, allows the quiet hiker to observe many animals including fox, raccoon, squirrels, deer, an occasional moose, and many other species.
Shore Trail (1.5 miles, easy): The Shore Trail spurs off the Old Farm Road and follows the shores of the Damariscotta River. It is the most popular trail, and hikers can access a sand beach and a pebble beach for swimming to cool off on hot summer days. Visitors can also picnic on the river bank while observing many species of shore birds such as egrets, ospreys, herons, and eagles. Anglers can fish for striped bass, mackerel, and bluefish or dig for clams in the offshore tidal flats. Please check with the Newcastle Town Office prior to digging clams for red tide warnings and other regulations.
Timber Trail (0.8 miles, easy): The Timber Trail is another easy trail to hike passing through many stone walls and a mixed growth forest. From this trail, the Riverlink trail spurs off to access trails off from the property open to the public and managed by the Damariscotta River Association.
The Damariscotta River Association has partnered with the Maine Bureau of Parks and Lands to assist with the management of this property and was also one of the many groups that helped acquire the property through support from Land for Maine's Future Acquisition Funds.
View BPL's map and guide for Dodge Point.
Other Information
There are no facilities at this property. We ask that you follow our carry-in/carry-out policy so that others may enjoy the beauty of Dodge Point.
Dodge Point is a day use facility only with no camping available. Open fires are not permitted, however self contained camp stoves may be used for picnics.
Please also be aware that this property is open to hunting during the firearm season and hikers should use caution when hiking during this time. Hunters are reminded that discharging a firearm within 300 feet of a trail is prohibited.

Natural Heritage Hikes is a project of the Maine Natural Areas Program in partnership with Maine Trail Finder. View the "Dodge Point Public Reserved Land - Ravine Trail and Old Farm Road" guide online here.

This trail passes through a property that was acquired in part with funds from the Land for Maine's Future program. For more information about the LMF program and the places it has helped to protect, please visit the LMF webpage.
Trail Manager
Visit Maine Bureau of Parks and Lands online for more information and a detailed trail guide or contact:

Coastal Rivers Conservation Trust
PO Box 333
Damariscotta, ME 04543
Phone: (207) 563-1393
info@coastalrivers.org
View website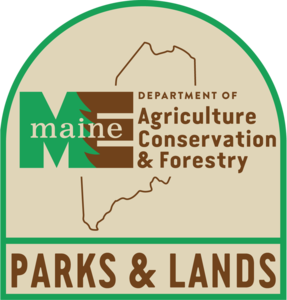 Maine Bureau of Parks and Lands, Western Public Lands Office
PO Box 327
Farmington, Maine 04938
Phone: (207) 778-8231
Tim.Post@maine.gov
View website