Description
Eagle Island's 1.4-mile trail system is located on the southern end of the island away from Admiral Peary's summer residence. Please check with the staff prior to hiking on the trails. Eagle Island is a critical nesting area and all trails are closed until July 15th.
The trailhead is located next to the solar outhouse on a trail called the Garden Path. This trail is short and passes through beautiful planted gardens maintained by the park staff.
The Great Horned Owl Path winds along the west side of the island, passing through a mature hardwood stand. Ferns and Mayflowers are abundant along the forest floor. For many years, a pair of owls nested along the trail and raised their young each year. The owls' haunting calls resound in the night skies.
The Sunset Stroll trail leads you past pink beach roses, stands of choke cherry and white birch ending at the rocky south beach. The shore offers great views of Broad Sound with Bates, Cliff, Jewell, and Brown Cow Islands to the southwest. During World War II, the Broad Sound was filled with Navy Ships of the Atlantic Fleet. Nets strung across the waterway provided the vessels with protection from submarine attack.
From south beach, hikers may loop onto Raspberry Lane traversing through a white quartz ledge (which intruded into the schist) and pass through a blackberry patch to Admiral's Way.
Admiral's Way is the oldest trail on Eagle Island. This trail was laid out and cut by Admiral Peary himself. Along the trail you can see evidence of the last ice age by the tell-tale scars along the exposed ledge. The trail rises to 59' above sea level, the highest point on the island and crosses the heart of the land, passing mature stands of maple, beech, and birch as well as a grove of balsam before returning to the beginning of the trail.
View the Eagle Island Historic Site page on BPL's website.
Other Information
Pets are not allowed on Eagle Island.
There is no camping on the island and the parks is open from 10 am to 5 pm. Because of the fire danger on the island, we ask visitors to refrain from smoking while visiting and that they help others enjoy the island by following the carry-in/carry-out policy.
The trail system follows along some steep cliffs and use caution when walking along these trails. When exploring the shore, be aware of possible rogue waves that can be a safety issue for those too close to the shore.
Trail Manager
Visit Maine Bureau of Parks and Lands online for more information or contact: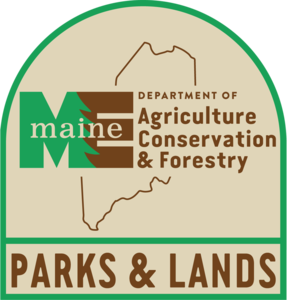 Maine Bureau of Parks and Lands, Eagle Island State Historic Site
PO Box 161
South Harpswell, ME 04079
Phone: (207) 624-6080
zane.wallace@maine.gov