Description
Ferry Landing Trail: The trail proceeds into the woods along a dirt road, passing alongside the Ferry Landing subdivision on the west and a house on the east. After a few minutes the trail makes a sharp left turnoff the road into the woods. Shortly after entering the woods, hikers will find an extensive boardwalk that leads to a point where the trail divides. Walkers who pass to the right will soon find themselves on a second boardwalk, which also has a resting bench. Sitting on the bench and looking south, walkers can see the first tupelo tree amongst the other trees (about 85 feet from the boardwalk). After leaving the boardwalk, the trail curves to the left, where closer glimpses of the first tupelo can be seen on the walker's left. Shortly, the trail leads to the second of the massive trees. A few feet farther is the second resting bench which offers a place to sit and view the third tupelo. The trail continues on, making a sharp left turn before returning to the point at which it split. Follow the trail back to the parking area.
Walther Pond Spur: Entrance to this spur is opposite the point where Ferry Landing Trail leaves the woods road. This trail leads hikers down a short path to theedge of a small vernal pool. There are two granite resting benches where walkers can contemplate the pond and its associated wildlife. This land was donated to Saco Bay Trails by sisters Sandra Greenier Chipman and Tamera Devine in honor of their grandmother Ina Walther, who once lived nearby and who enjoyed watching the birds attracted by the water.
Other Information
Saco Bay Trails is grateful to Ferry Landing developer Diane Doyle who donated the 8-plus acres the trail passes over as well as the funds to build the trail. We also thank members of the Biddeford-Saco Rotary Club who spent a Saturday spreading gravel on the path and the Saco Conservation Commission which donated funds for the resting benches.
The trails are built and maintained by volunteers and members of Saco Bay Trails. Please make sure to "leave no trace"and to keep your dog on a lead. In addition please use poop bags. If you do see vandalism or excessive trash, please visit our website and click on Trail Condition Report to notify us.
In spring, summer, and fall, ticks and other biting insects may be plentiful. Visitors should take precautions to avoid these, especially ticks and possible exposure to Lyme disease.
Trail Manager
Visit Saco Bay Trails online for more information or contact: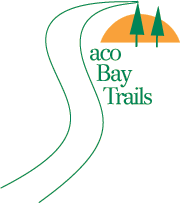 Saco Bay Trails
PO Box 720
Saco, ME 04072
contact@sacobaytrails.org
View website