Description
This nature sanctuary is the home of Jewell Falls, Portland's only natural waterfall. From the South entrance, the trail follows the former canal towpath at a flat grade for over a half-mile before turning north to cross wetland areas. As the trail heads uphill there is a loop trail which, at its highest point, leads to Jewell Falls. The Falls were donated to Portland Trails by the family of Tom Jewell, one of Portland Trails' founders.
The Fore River Sanctuary is also the site of the former Cumberland and Oxford Canal, you can walk along the remains of the towpath and see the repair basin, a man-made pond dug for the canal. The Sanctuary provides important habitat for wildlife in Portland. The lowland area, where the saltwater and freshwater marshes meet, provides great bird-watching opportunities. Red oak and white pine are home to many songbirds and small mammals in the upland area.
The sanctuary abuts a heavily-wooded 22 acre parcel owned by Energy East Foundation, which has given Portland Trails permission to provide public trail access. New trails there connect to west to Westbrook Street.
Other Information
A short walk down Congress Street sidewalks leads to the Fore River Trail and Stroudwater Trail.
Maine Audubon created the Fore River Sanctuary in 1971. For many years, dogs were not allowed here. Portland Trails is letting responsible dog owners demonstrate that they can visit this special place with their pet without doing harm to this important habitat.
Trail Manager
Visit Portland Trails online for more information or contact: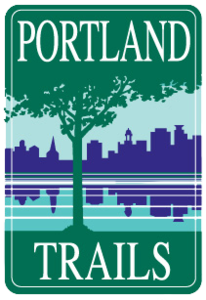 Portland Trails
305 Commercial Street
Portland, ME 04101
Phone: (207) 775-2411
info@trails.org