Description
Visitors to Fort Point State Park can picnic at many of the picnic sites located along the shore or can hike the short trails from fields to forest to rocky shores. There are many interpretive panels along the way describing the history of the area. Wildlife watchers can look for deer, fox, porcupines, owls, and occasional moose in the forest. Along the shore, there is a 200-foot pier that provides an excellent vantage point for spotting seals and porpoise in the water or ospreys and eagles flying overhead.
The pier and surrounding shore allow anglers to fish for mackerel, stripers, and occasionally blue fish. The floats off from the pier allows visitors to launch kayaks and canoes for a paddling excursion or to dock when visiting the park from the water.
Fort Point is rich in history. In 1758 Governor Thomas Pownall wrote that a fort at the Penobscot River was strategically vital for the English and in 1759 brought 400 men here and built Fort Pownall, a fort with exceptional design for its time and place. The fort, shaped like a four-point star, was surrounded by a palisade, ditch, and large earthen bank. Soon after the fort was built, the French fell to the English thus ending France's foothold in North America so Fort Pownall never did get to fulfill its military mission.
In 1775, on the eve of the American Revolution, British sailors came ashore and secretly moved the fort's guns to keep them out of rebels' hands and in return these rebels burned the blockhouse and filled the moat to prevent British occupation of the fort.
In 1836, Fort Point Light Station was built as the first river light in Maine. In 1857, the present tower and keeper's house replaced this station. Today, this fog signal and light station is automated and the property is managed by Maine's Bureau of Parks and Lands.
In 1872, the Fort Point Hotel, a structure with state of the art running water, gas lights, a stable, bowling alley, two dance pavilions and rooms for 200 guests, was built. The hope was that this area would rival those in Bar Harbor. Sadly, this did not happen and in 1898, the hotel burned and was never replaced.
View the Fort Point State Park page on BPL's website.
Other Information
Please be courteous of all park boundaries and park rules, which can always be found easily posted nearby.
Fort Point State Park is open seasonally between May and October. Visitors are welcomed to use the park in the off-season and are asked to park well off from the the road.
The park also offers bicyclists an excellent area to begin a 7 mile leisurely loop around Cape Jellison offering many scenic views of Penobscot Bay and the Penobscot River.
Trail Manager
Visit Maine Bureau of Parks and Lands online for more information or contact: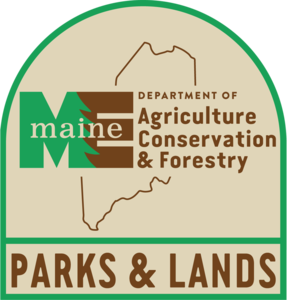 Maine Bureau of Parks and Lands, Stockton Springs
207 Lighthouse Road
Stockton Springs, ME 04981
Phone: (207) 567-3356