Description
The French Mountain Trail is a loop trail and can be followed in either direction; clockwise is described here.
The trail heads east from the parking area and soon splits at the trail information kiosk. Stay left for a more direct path to the summit. After a short climb, the trail swings south and ascends the ridge of French Mountain (716') to reach a rocky precipice with stunning views of Long Pond. As the trail opens up near the summit, the first views are of tiny Whittier Pond to the east, Mount Phillip to the northeast, and Long Pond to the southeast. The trail continues along open rocks above steep cliffs to a viewpoint overlooking the northern end of Long Pond. From here you can also see Great Pond, The Mountain, and Belgrade Lakes Village.
Just south of the summit overlook, the trail turns west into the woods and descends several switchbacks before turning north and gradually descending through woods, back to the junction and parking area.
Other Information
Obtained in 1990, French Mountain (716') was the first parcel of land acquired by Belgrade Regional Conservation Alliance (BRCA), then the Watson Pond Conservation Trust, now the 7 Lakes Alliance.
Trail Manager
Visit the 7 Lakes Alliance online for more information or contact: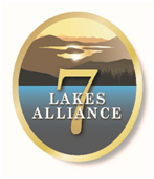 7 Lakes Alliance
PO Box 250
Belgrade Lakes, ME 04918
Phone: (207) 495-6039
info@7lakesalliance.org
View website