Description
Grafton Notch State Park is a premier recreational destination off of ME-26 in Newry. The park lies amidst some of Maine's most spectacular mountains, the Mahoosuc Mountain Range, and offers rugged terrain for back-country hikers including close to 5 miles of the Appalachian Trail. Hiking up the steep summit trails rewards hikers with spectacular views, particularly on Old Speck Mountain which at 4,180 feet is Maine's third tallest mountain.
Old Speck Trail (7.6 miles round trip, advanced): Old Speck Trail is a challenging hike with spectacular views from an open observation tower at the summit. From the parking area, follow the white-blazed Appalachian Trail southbound along Cascade Brook. The trail crosses many streams then ascends the north shoulder, rising out of the woods and offering frequent views of the Notch. The summit and tower are reached by a 0.3-mile spur reached at approximately 3.5 miles from the trailhead.
Eyebrow Loop Trail (2.2 miles round trip, advanced): The Eyebrow Loop Trail rises steeply to a 2,900-foot shelf-overlook on Old Speck Mountain. Following the white-blazed Appalachian Trail southbound for 0.1 miles, look for the start of the orange-blazed Eyebrow Trail on the right. The trail gently rises as it passes through a stand of hardwood trees until it reaches a steeper cliff section. Portions of the orange-blazed ascent involve ladders and steel rungs. It is suggested that users descend by following the Appalachian Trail back to the parking lot and trailhead. While still steep, this avoids climbing down steep sections. Hikers wanting to avoid the rungs and ladders can go up and back on the AT portion for a 2.6-mile round-trip. The Eyebrow may not be achievable for small children, especially in wet conditions.
View BPL's Grafton Notch and Mahoosuc Public Land map and guide.
Other Information
Grafton Notch State Park is also part of the Maine Birding Trail, birdwatchers can observe peregrine falcons, a wide variety of songbirds, and at higher elevations some northern forest species. In the winter, adventurous snowshoers and cross-country skiers enjoy exploring ungroomed trails.
Grafton Notch is open seasonally from May 15th to October 15th from 9:00 am to sunset. Off season, visitors may continue to enjoy the park during these same hours. Please place the admission fee in the self-service collection canister. Please be aware that facilities are closed during the off season.

Natural Heritage Hikes is a project of the Maine Natural Areas Program in partnership with Maine Trail Finder. View the "Old Speck Mountain - Appalachian Trail and Eyebrow Loop Trail" guide online here.
Trail Manager
Visit Maine Bureau of Parks and Lands online for more information and a printable map or contact: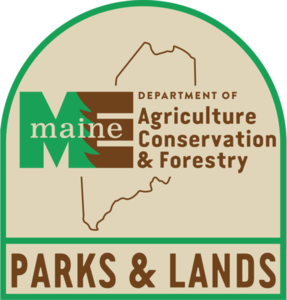 Maine Bureau of Parks and Lands, Grafton Notch State Park
1941 Bear River Road
Newry, ME 04261
Phone: (207) 824-2912; Off Season: (207) 624-6080