Description
Paddling Grant Brook is a great way to experience the lakes, streams, and bogs that define much of the North Maine Woods. It can be paddled out and back from a public boat launch on Millinocket Lake or from the New England Outdoor Center.
If beginning at either put-in on the lake, stay to the left (Southwest) of the islands for about a mile to reach Grant Brook. At this point the brook is about 200 yards wide, technically part of the lake. Large marshes extend beyond both banks, with trees set far back from the water. Flat water extends over a mile inland as the stream narrows and begins turning in wide oxbows. This is an ideal place to spot wildlife, including a resident family of nesting osprey. Eventually the brook is blocked by beaver dams, which can be easily portaged around to extend the paddle a short distance farther upstream.
Intrepid paddlers may choose to start at the Baxter Park Road put-in and paddle downstream using a shuttle for a one-way trip. Putting in at this location can be difficult and requires some brushy paddling in the first couple hundred yards.
Other Information
Paddling on Millinocket Lake is not recommended in windy or inclement weather.
Trail Manager
For more information, contact: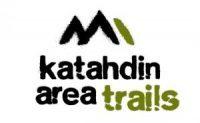 Katahdin Area Trails
PO Box 669
Millinocket, ME 04462
Phone: (207) 723-5438
info@katahdinareatrails.org