Description
Follow the access trail from the parking lot on Harriman Point Road. The trail leads across private property to the entrance of the preserve. Here, an old woods road leads north to an open field and former home site of the Harriman family, 1 mile from the parking area. From the old homestead, two trails branch off, each leading 0.25 miles: one to the eastern shore and the other to the northwestern shore. In addition to scenic views, Harriman Point is a wonderful destination for wildlife observation, especially for birdwatchers during spring and fall migration.
This 138-acre preserve comprises the majority of Harriman Point, a scenic peninsula in Brooklin. Harriman Point boasts spectacular views from the shore east across Blue Hill Bay to the summits of Mount Desert Island and west across Allen Cove to the former residence of E.B. White. With roughly two miles of shoreline, the preserve contains the largest continuous stretch of coastline open to the public on the Blue Hill Peninsula.
Evidence of Harriman Point's history can be seen in the late-18th century foundations and stonewalls that still remain. The peninsula was settled by the Harriman family in 1795. Today, the point is largely wooded, but also contains forested wetlands, saltmarshes and a 1.3-acre bog. However, Harriman Point's most notable features are its shell and gravel beaches along its eastern shore.
Other Information
Preserve Information and Guidelines:
Please respect the privacy of preserve neighbors
No parking on Tinkers Lane
No camping permitted
No fires permitted
Carry out all trash, including human and pet waste and toilet paper
Keep pets under strict voice or leash control
Do not remove archaeological artifacts
Trail Manager
For more information and for a printable preserve map, please visit Maine Coast Heritage Trust's website.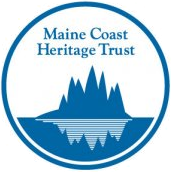 Maine Coast Heritage Trust
1 Bowdoin Mill Island, Suite 201
Topsham, ME 04086
Phone: (207) 729-7366
stewardship@mcht.org
View website