Description
The rugged quarter mile trail is marked by yellow markers. Three-fourths of the way up the mountain, the trail splits to the left where an easier but still rugged trail loops around to the summit. At the split in the trail one can continue straight up, climbing across an exposed ledge face. It is recommended that those that would like to go up the ledge face do so by going up it and take the loop back down. It is not recommended to come down the ledge face.
The surface of the trail is steep, with loose rocks and gravel. It is recommended that good foot wear is worn (no sandals or flip flops.) There is no source of drinking water available so one should bring plenty of water for the hike. Other things to bring on the hike, snacks, fly dope, binoculars, camera, and a cell phone to call for help if needed.
The views are spectacular and will not disappoint. Views of the surrounding area will include looks at Katahdin and the Scopan Lake Public Land Unit to the south-southwest. Wooded forest areas of the North Maine Woods to the west. Agricultural farm lands and communities to the north and east. Maine's first wind mill project located on Mars Hill mountain to the southeast. Aroostook State Park (Maine's first) looking east at the twin peaks of Quaggy Jo Mountain, left of the wind mills.
Other Information
Once parked, look to the left of the bulletin board to locate the trail entrance. The bulletin board offers educational information on the geological past of this area along with a basic map of the trail. The quarter mile trail is a straight approach to the 1,142' summit. There is a small picnic canopy at the parking area where families can picnic after a rewarding hike. The area is open from sunrise to sunset, and there is no camping allowed. A public DOT rest area is located at the bottom of the hill on ME-163 towards Ashland. Carry-in-carry-out is required.
The Haystack Mountain trail is dedicated to the memory of the late Corporal Dustin J. Libby, United States Marine Corps. A memorial bench at the summit and a sign at the trail head will be installed in Corporal Libby's memory in 2011.
The 215 acre area is owned and managed by the Maine Bureau of Parks and Lands and is maintained by the Town of Castle Hill.
To find out more about the geology of Haystack Mountain and how it came to be, check out Maine Geological Survey's "The Geology of Haystack Mountain."
Trail Manager
For more information contact: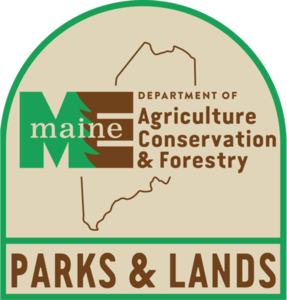 Maine Bureau of Parks and Lands, Aroostook State Park
87 State Park Road
Presque Isle, ME 04769
Phone: (207) 768-8341
scott.p.thompson@maine.gov