Description
Cave Trail: (0.3 miles) This trail is named so because of an unusual geological occurrence of a small cave and a dike formation caused by molten rock millions of years ago.
Huntress Trail: (1.2 miles) This trail runs from Tripp Lake Road to the library and passes through forest and by a vernal pool, making it good for wildlife viewing. The Huntress Trail can be combined with other trails to create a loop or can be hiked as an out-and-back.
White Oak Trail: (0.7 miles) This trail visits a small stand of white oak trees which are common in parts of Poland but not found north of here. Poland has the only White Oak Hill in Maine. White oaks were very valuable for ship timber in Colonial days.
Ricker Trail: (0.3 miles) The Ricker Trail connects to the Huntress Trail at both ends and can be used as an interesting alternative to the eastern end of the Huntress Trail, or can be combined with it to make a shorter loop from the library trailhead.
Quarry Spur: (0.1 miles) This short out-and-back trail leads away from the main network and to a former stone quarry dating back to the early 1900s. It's a great sight-seeing addition to a walk on the network.
Trail Manager
For more information about the trails, visit the Town of Poland online, or contact: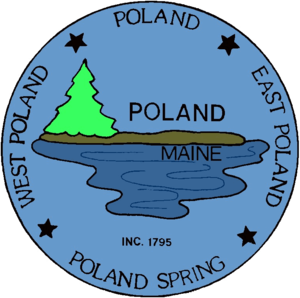 Town of Poland
1231 Maine Street
Poland, ME 04274
Phone: 207-998-4650
ssegal@polandtownoffice.org
View website