Description
The trails system at Hidden Valley Nature Center have a variety from easy wide pathways to narrow advanced single track and covered varied terrain. In the winter many of the trails are groomed for classic cross-country skiing, skate skiing, and snowshoeing. Below are a few highlighted trail experiences.
Moose Alley-Couch Hill Nature Trail (1.0 mile from Gate, easy): On June 15, 2012, HVNC published a Nature Trail Guide which can be picked up at the new GateHouse. If you want to take it home, please leave 2 dollars. Feedback for the trail and guide are encouraged!
Trail Guys Treasure Hunt/Interpretive Trail along Warbler Way (0.7 miles round trip. easy): Grab the "key" at the Gate House to help figure out the clues and find the scroll. Enter your name and you might win a special gift! Take Warbler Way, looking for the Trails Guys pinned to trees and the interpretive signs, also attached to trees. Return via the Service Road if you chose.
The Bog (0.3 miles round-trip from Gate, easy): Take Warbler Way, then Crossbill Loop to the new boardwalk to visit the fascinating floating bog.
The Maze (1 mile, easy): This is our newest trail. It consists of a circular perimeter trail well marked with double headed green and white arrows. The perimeter trail connects to the Bowl loop several places as well as Haybale trail. The inside of the perimeter trail has a maze of trails most of which are unmarked, unnamed, and ungroomed.
Bowl Loop Trail (3 miles, moderate): Passing through mixed forest, this trail encircles a major trail system that features choice wildlife habitat and picturesque glacial formations including featuring a 30 foot high rock face.
Reed Meadow Trail (1.5 miles, moderate): This trail meanders along a secluded wooded stream with wild calla lilies, opening into a mature beaver meadow and rising to pleasant glen overlooks.
Slick Rock Trail (2.2 miles, moderate): Gently descends through canopied forest to Little Dyer Pond (100 acres) with picnic table, swimming and campsite. Rental canoes available.
Two Dog Pond Trail (1.5 miles, moderate): The trail winds through sustainably harvested forest (Forest Stewardship Council certified "green"), pauses by a pair of delightful hidden forest pools near a relaxing glen overlook descending to meet Reed Meadow Trail.
Kidney Pond Trail (2 miles, easy): This system loops around Kidney Pond and Sugar Hill (a sweet ski trail) with a variety of forest and pond openings for wildlife viewing.
Dyer Pond Trail (2 miles, easy): This trail leads to remote and quiet Little Dyer pond.
Hermit Thrush Trail (2 miles, easy): This trail leads to Hermit Hut (overnight camping available) near the inlet of Little Dyer Pond.
Other Information
Midcoast Conservancy is a non-profit organization supported by membership, and they ask for either annual membership or a suggested donation of $5 per person per day to use the trails at the Hidden Valley Nature Center. Camping, canoeing, fishing, and cabins are also available at Hidden Valley Nature Center. Follow the link to the website for more information.
Well behaved pets permitted under leash or voice command. Please keep trails neat, and remove any pet waste.
Trail Manager
Visit the Midcoast Conservancy website for more information or contact: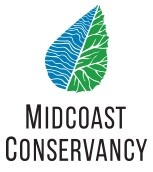 Midcoast Conservancy
290 US Route One
PO Box 439
Edgecomb, ME 04556
Phone: (207) 389-5150
View website