Description
The non-motorized trail is a wide, gravel path running parallel to Meduxnekeag River. Hikers can walk round trip, or use it as a one-way connector trail. Riverfront Park, dedicated in 2009, has a large, sheltered picnic area. A 17,000-pound bronze moose statue sits next to the parking lot, greeting visitors to the park.
From the park, hikers can walk across the Meduxnekeag River via the Gateway Crossing Footbridge, to Houlton's historic downtown Market Square, where one can find boutiques and shops to stop in and make a purchase, have a latte, a snack, or just look around. The Gateway Crossing Footbridge also provides access to the park and the trail from downtown Houlton.
Other Information
In the park and along the length of the trail are a number of installed, educational plaques that have graphic illustrations and narrative explanations of local history, wildlife, and plants.
Pets are allowed but their waste must be removed. The park provides dog waste bags without charge.
Trail Manager
Visit the Town of Houlton online for more information, or contact: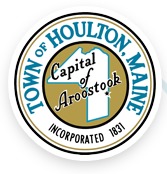 Town of Houlton
Parks & Recreation Department
21 Water Street
Houlton, ME 04730
Phone: (207)-532-1310
rec.programs@houlton-maine.com
View website