Description
The Kenduskeag Stream Trail is an easily-accessed urban trail in the heart of Bangor. The trail begins at Gomez Park where the Kenduskeag flows into the Penobscot River. From here, head upstream right along the Kenduskeag and through downtown, enjoying the Norumbega Parkway where the Kenduskeag splits through canals on either side of the island. Cross back on the southern shore of the stream and continue upstream.
From downtown, the trail continues along the left bank of the stream, the footbed is a mix of packed dirt and gravel. Signs have been placed along the trail, with photos and interesting historical facts about the stream. Honey locust and red maple trees line the sides of the trail and in the fall you can find an abundance of blackberries here. This area is one of the more hilly portions of the trail with some moderate inclines. The trail continues through staghorn sumac, silver maple, and American elm; care should be taken in this area, as the edges of the path are somewhat steep.
The trail now heads across a walking bridge, and continues along the opposite bank of the stream. Heading upstream the trail approaches Harlow Street; the trail heads across the bridge here and there is a parking and picnic area on the other side at Gateway Park. Further along, remnants of the former Drummond Mill can be seen in the woods; beyond this, the trail heads down Valley Avenue. There is a brief split in the trail but the sides meet up again shortly. A lookout is perched atop the old sawmill foundation with views of "Lovers' Leap" cliffs and the rapids that follow (including Shopping Cart Rapid). The trail continues across the bridge on Valley Avenue. This area is relatively flat with a packed dirt/gravel footbed.
The trail continues through Kenduskeag Stream Park following the stream and heads under the I-95 overpass. Another lookout was built on top of an old flour mill here, this spot has great views of the aptly named Flour Mill Falls. The area beyond this lookout has many great spots for picnics, and the stream is much calmer here.
Other Information
Pets are permitted with a leash, please pick up all waste.
Trail Manager
Visit Bangor Parks and Recreation online for more information or contact: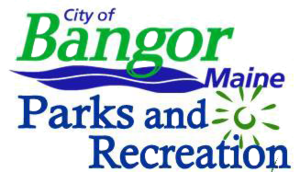 Bangor Parks and Recreation
647 Main Street
Bangor, ME 04401
Phone: (207) 992-4490
parks.rec@bangormaine.gov
View website