Description
The Klondike Mountain Trail starts from the southern side of the parking lot. Hikers will traverse through open fields dotted with apple trees. The trail skirts along the waterfront before climbing to the first peak, then over to the second peak. Rocky sections of the trail leading up to the peak may be slippery when wet.
The summit offers panoramic views of the surrounding communities, islands, bays and jagged shoreline. At certain levels of tide evidence of an old dam can be seen. The dam is remains of Fowler's Mill, used at different times as a plaster mill and grist mill.
Hikers can continue down from the summit. The short Fowler's Mill Pond Trail leads to an overlook near the dam remnants. Hike back and loop back to the lower field where the trail reconnects with the Klondike Mountain Trail.
Other Information
Please practice carry-in/carry-out and leave no trace ethics. Please do not carve graffiti or initials into the rocks, ledges or trees. For your safety, wear orange during hunting season. Fires, camping, ATV's and snowmobiles are not permitted. Visitors are welcome to pick apples from the trees for personal use.
The trails and interpretative materials at Klondike Mountain were created in collaboration with the Cobscook Community High School program at the Cobscook Community Learning Center during the 2013-2014 school year.
Trail Manager
Visit Downeast Coastal Conservancy online for more information or contact: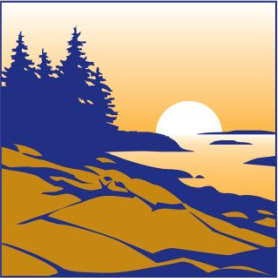 Downeast Coastal Conservancy
PO Box 760
Machias, ME 04654
Phone: (207) 255-4500
info@downeastcoastalconservancy.org
View website