Description
The three different trailheads provide distinct hiking opportunities on a connected system of primitive hiking trails. Seven primitive campsites (first come, first serve) with outhouses are situated on the ponds in this trail network.

Loop option - For those interested in a shorter overall hike looping around two ponds, the loop trail sweeping past the eastern shore of Big Moose Pond and back around the northern shoreline of Little Moose Pond is approximately 3.8 miles of hiking and returns to the central trailhead for Big and Little Moose Ponds (see above). This loop includes excellent views from the ledges overlooking the two ponds. These vistas provide a sweeping view northward to Big Moose Mountain and beyond to Moosehead Lake, Mount Kineo, and both Little and Big Spencer Mountains. Partial views of other mountains extend in other directions.

The trail from the Big and Little Moose Ponds trailhead leads downhill about 0.4 miles to an intersection with a short spur to two pond-side campsites. Another 0.3 miles leads to an intersection with the loop. Head east to skirt Little Moose Pond's northern shore. It is approximately 0.9 miles to a junction where one can continue east 2.5 miles to the trailhead at the former Greenwood Motel (now Moose Mountain Inn - ME Route 15). If staying on the loop, avoid the aforementioned 2.5 mile segment and instead turn southward and hike roughly 0.8 miles along the ridgeline of Little Moose Mountain. Look for a short spur trail to a scenic overlook perched atop Little and Big Moose Mountains. Near this overlook spur, look for a trail junction where the Notch Trail joins. Do not take the Notch Trail unless you want to hike 2.75 miles one-way to the Notch Trail trailhead. Bear northward passing along the eastern shore of Big Moose Pond until reaching the initial point where the loop began.

The loop is well-suited for most hikers and provides a mix of hardwood tree species around the ponds and stands of spruce and fir at points along the ridge. Expect trail conditions typical of primitive hiking trails (roots, rocks, etc.). There are two campsites at Big Moose and three campsites at Little Moose Pond; all are found on the north shores of the ponds and are within 0.5 to 1.5 miles from the trailhead.

From Moose Mountain Inn (formerly Greenwood Motel) - The hike from this easternmost trailhead immediately begins to rise through mixed woods as it travels towards a series of pleasant viewpoints. Shortly after beginning, the trail crosses an ATV/snowmobile trail. Not long after that point, the first viewpoint presents an open view of the southern tip of Moosehead Lake. A picnic table makes this vista a relatively easy destination for a quick picnic. Further along the trail, periodic views open in a variety of directions. The trail is moderately steep and quite bony (rocky with ledges). Sounds from truck traffic can be heard some through the attractive, predominantly spruce and fir forests of this section.

The trail continues down from a crest of approximately 2000' towards Papoose Pond (reached at a little over 2 miles). This section becomes quieter, with more frequent hardwood tree species such as beech, birch, and maple. The junction with the loop trail around Big and Little Moose is reached at approximately 2.45 miles.
From Notch Ponds trailhead - Starting at the westernmost trailhead puts you roughly 1.2-miles from campsites on Little and Big Notch Ponds. These sites, particularly the one at Big Notch Pond, are attractive places to camp in a remote location a little less than half-way to the intersection with the trail loop in the heart of the trail network. Starting at the Mountain Road trailhead a little further east makes the campsites roughly 0.7 miles from the starting point. An advantage of starting further west is that a small but attractive waterfall sits along the trail between the two trailheads.
Northern hardwood trees including yellow birch as well as plants and bushes such as clintonia, hobblebush, and bunchberry are encountered along this section. After the ponds, the trail steepens and then provides occasional, filtered views. The trail begins to drop as it heads for the intersection with the loop trail just east of Big Moose Pond. In total, it is approximately a little over or under 3 miles from the trailhead to this intersection, depending on which trailhead is chosen.
View BPL's map and guide for Little Moose Public Land.
Other Information
At more than 13,500 acres, the Little Moose Public Land is managed for multiple uses including wildlife, recreation, and timber. Timber harvesting is certified as sustainable and financially supports the management of Maine Public Lands (such as Little Moose). Camping, fishing, hunting, snowmobiling and ATVing, and wildlife watching are other activities enjoyed here.

While access to the trails does not require as much travel on logging roads as some destinations, take care traveling along area logging roads, pulling over and stopping for trucks regardless of which direction they're headed. Do not block side roads and never stop where visibility is poor. Roads can be dusty in dry weather and washed out in wet weather. Gravel roads are hard on tires (and suspension systems): travel slowly and carry a spare tire.

Don't count on your cell phone in an emergency as coverage is not reliable across all of the trails.
Trail Manager
Visit Maine Bureau of Parks and Lands online for more information and a detailed trail guide or contact: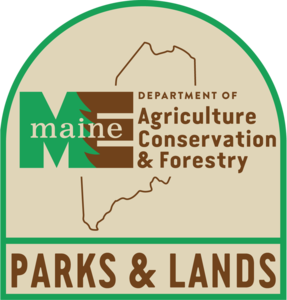 Maine Bureau of Parks and Lands, Western Public Lands Office
PO Box 327
Farmington, Maine 04938
Phone: (207) 778-8231
Tim.Post@maine.gov
View website