Description
Overview
This is a good trail to hike or snowshoe. Cross-country skiing can be a challenge because of numerous ups and downs. In any season, the LRCT is a gem, and its location right in town makes it easy to get to. The two reservoirs and the Little River are picturesque, peaceful, and hospitable to wildlife. The trail can be hiked in sections or the entire 5 miles.
From the South Trailhead kiosk at the Belfast Water District, the trail follows blue blazes one mile to the Perkins Road, continues three more miles to ME-52 at the Walsh Ball Fields, and one last mile to the University of Maine Hutchinson Center on ME-3.
The Hike
Before leaving the Water District parking lot, take time to look at the Lower Reservoir. Many species of waterfowl live and feed around its margins. The trail skirts its north shore under tall white pines, and as the reservoir narrows into the river, the trail ascends and descends hilly terrain. The mature woods are populated by nesting songbirds in spring and summer, and offer habitat for resident winter birds. After a mile, the trail comes out to the Perkins Road at a large hayfield. (See Perkins Road access.)
To continue, turn left, walk 20 yards, and cross the Perkins Road to the dam and the next section of the trail around the Upper Reservoir. The trail begins at three big rocks which prevent vehicles from entering, and follows blue blazes along the water's edge. The reservoir gradually narrows to the Little River's original stream, and continues through mixed forest, with some huge hemlocks and a large glacial erratic boulder beside the river. The trail continues from here another 1.3 miles to ME-52 at the Walsh Ball Fields, for a total of 4 miles (see ME-52 Trailhead.)
To continue one more mile, cross ME-52 and turn left onto the sidewalk for a few paces. The trail leaves the road and passes behind the YMCA, still following blue blazes, through the Community Garden, over a bridge and behind Troy Howard Middle School. It runs past the Garden Project and Greenhouse, along the back of the parking lot, and turns right to skirt athletic fields. From there it enters hemlock woods along a brook, crosses the brook on a bridge, and follows blazes through maturing woods. It ends at the University of Maine Hutchinson Center on ME-3 (see North Trailhead.)
Other Information
The trail gratefully uses land belonging to Waldo County, the town of Belfast, and private landowners.
Trail Manager
Visit the Belfast Bay Watershed Coalition website for more information, or contact: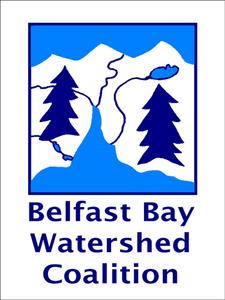 Belfast Bay Watershed Coalition
PO Box 152, Belfast, ME 04915
Phone: (207) 338-1147
bondcoappr@gmail.com
View website