Description
The trail is well marked with various colored markings depending on which of the color-coded loop trails you choose to take. Starting at the parking lot, the trail first enters a small thicket and then crosses a field and ends at Aspen Lane, a small suburban cul-de-sac. The trail continues from the opposite side of the road about 100 yards to the north (right).
Each of the trails wind through hemlock and aspen forests, complete with a wide variety of wildflowers in the springtime, including red trillium and jack-in-the-pulpit. Also common are the ferns so typical of a Maine hike, although this delightful hike is but a short distance away from urbanized Portland.
When one follows the River Trail above the sign marked "Up River Down," the hike can become more challenging with steep, uneven earthen stairs leading to narrow bridges which cross the numerous gullies. The rest of the trails offer very gentle grades and woodland tranquility.
This trail usually takes about 45 minutes to complete.
Other Information
Presumpscot Regional Land Trust supports healthy lands, waters, wildlife, and people across the Presumpscot River watershed through conservation, water quality monitoring, education, and public access. Our success is based on member support. To learn more and become a member go to www.prlt.org.
Trail Manager
Visit the Presumpscot Regional Land Trust online for more information or contact: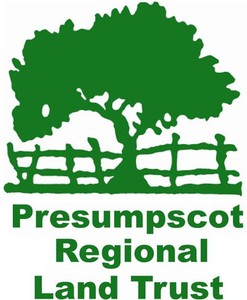 Presumpscot Regional Land Trust
PO Box 33
Gorham, ME 04038
Phone: (207) 536-8623
info@prlt.org