Description
Mackworth Island was purchased by James Baxter in 1885 and is where he built a twenty two room summer cottage. In 1946 Governor Percival Baxter who wished that the island be used for state public purposes and "as a sanctuary for wild beasts and birds" donated the island to the people of the State of Maine. He left an endowment for a school for the deaf in 1953 and and in 1957, deeded his summer home on the island to create the Governor Baxter School for the Deaf.
The loop trail system at Mackworth Island State Park includes an easy walking trail with a firm surface having grades less than 10% with no barriers for wheelchairs. The trail offers several strategically placed benches allowing hikers to relax and reflect while offering fantastic views of Casco Bay. There are three sets of stairs allowing users access to the shore where a variety of sea creatures can be found.
The mixed growth forest along the trail provides food and shelter for a variety of birds and animals including wild populations of warbler, thrushes, ruffed grouse and turkeys. It also includes populations of gray squirrels, raccoons, snowshoe hare, foxes and skunks.
Along the trail there are several areas of interest and history. A small pond near the gatehouse is home to Columbia Watermeal which is perhaps Maine' smallest flowering plant and so rare the pond is one of the only spots in the state where it is known to grow. Another area of interest for children is the islands' fairy village. Here children can use natural materials to build small fairy houses hoping fairies will appreciate these structures. Further along the trail, is a cemetery built for Percival Baxter, a beloved pet lover. Here, fourteen Irish setters and Baxter's horse, Jerry Roan are all buried. About halfway from the parking lot, there are remnants of a granite pier, built during the Civil War for union soldiers stationed at Mackworth which was known as Camp Berry at that time. Park users can be found fishing for striped bass or mackerel from the pier during the summer months. As you continue walking the trail along the shore, you can see several of the "Calendar Islands" so called because of a tale that there were 365 islands in the more than 200 square miles of Casco Bay. Included in these islands are Little Chebeague, Long Island, Great Diamond, and several others inhabited year-round and accessed by a ferry out of Portland.
View the Mackworth Island page on BPL's website.
Other Information
The coastal area to the north and west of Mackworth is a very important natural resource. The Mackworth Island Flats are classified as an "A" region by the Maine Department of Inland Fishery and Wildlife as they possess "exceptional value as an area of national and/or state significance for coastal wildlife" which designates special protection from pollution.
The Patriots Day storm of 2007, caused extensive damage to the forests of Mackworth Island and there still are many signs of this damage and the regeneration of the forest since that time.
The island is also home for the Real School and Baxter School for the Deaf. Please respect the school property and remain on the trail at all times. The parking lot has a capacity for only 20 cars and often fills during peak hours. During that time, cars are asked to turn back and return at a time when it is less busy.
Trail Manager
Visit Maine Bureau of Parks and Lands online for more information or contact: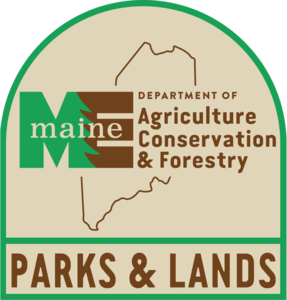 Maine Bureau of Parks and Lands, Pownal
528 Hallowell Rd.
Pownal, ME 04069
Phone: (207) 688-4712