Description
Margaret C. Manter granted this conservation easement of 8.4 acres to the Orono Land Trust in 2006, and a public trail easement through the Manter Conservation Easement (also known as Manter Wood) forms a loop. There is a possible connection to the town-owned McPhetres Forest, via a short segment through private property.
Manter Wood includes hardwood, mixed wood, and softwood forest stands, with a diverse mix of species, including scattered white oak saplings. The Manter Pine, an impressive feature of the property, measures over 16 feet circumference and is the largest tree in Veazie.
Other Information
Manter Wood is privately owned and managed and under trail and conservation easement by the Orono Land Trust. Foot traffic is limited to designated trail easements during daylight hours. Please respect this Private Property with public walking trail easement. Please take only photos and leave only footprints. Orono Land Trust/Veazie Land Association hold 2 trail improvement days per year, one in Spring (near Earth Day) and one in Fall (usually October). Trail users are encouraged to contact the manager for potential volunteer trail improvement work.
Trail Manager
Visit the Orono Land Trust for more information or contact: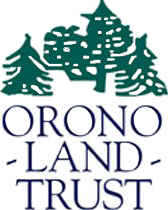 Orono Land Trust
PO Box 4
Orono, ME 04473
oronolandtrust@roadrunner.com
View website