Description
The Marsh River Preserve is a 70-acre property with 5,500 feet of frontage on the Marsh River. The trails total nearly a mile in length, offer scenic views across the river, and meander along beautiful salt marshes teaming with wildlife, through mixed forests, and past interesting, cultural, geological and ecological features.
The Main Trail at Marsh River traverses the property following easy terrain to an overlook of the Marsh. There are two smaller loops at the east and west end of the Main Trail which take visitors through mixed forest types. Mature Hemlocks are dominant on the property along the cooler north facing slopes and seeps, while Beech and other hardwoods are found along the smaller loop trails. Witch Hazel is common in forest openings, and glacial erratics are found along the eastern loop, in a cooler hemlock forest with moss and ferns. Lookout for the Rattlesnake Plaintain, a native orchid, found along the trails!
The trail brochure, available at the kiosk and Midcoast Conservancy website, has an interpretive guide with markers along the route pointing out interesting stops.
Other Information
There are no facilities at this property. Leave No Trace: please carry out what you carry in and do not take souvenirs. As hunting is permitted, both hunters and hikers should use extreme caution during hunting season.
Dogs should be under control of their owners at all times; please clean up after your pets.

This trail passes through a property that was acquired in part with funds from the Land for Maine's Future program. For more information about the LMF program and the places it has helped to protect, please visit the LMF webpage.
Trail Manager
Visit the Midcoast Conservancy website for more information or contact: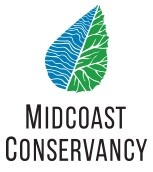 Midcoast Conservancy
290 US Route One
PO Box 439
Edgecomb, ME 04556
Phone: (207) 389-5150
View website