Description
Moose Point State Park is a great place to take a break from the congested traffic of Route 1 and relax at a quiet, scenic spot away from the more crowded areas of Mid-Coast Maine. The park offers ocean side picnic tables, grills, a playground, group shelter, gazebo and hiking trails. Visitors can enjoy exploring the evergreen forests and tidal pools while experiencing beautiful views of Penobscot Bay.
The Big Spruce Trail is 0.5-mile, easy walk. This trail takes you through lush evergreen forests, with two lookouts overlooking the Penobscot Bay. Both overlooks have benches where guests can sit down, read a book, relax and enjoy the wonderful ocean scenery.
Moose Trail is 0.6-mile, leisurely stroll. This trail can be accessed from the check in station or from the Park Service Road. The Moose Trail intersects with Big Spruce Trail, offering hikers a bit of variety in this quaint little trail network. The quiet and observant hiker may glimpse diverse wildlife along the trail. Several species of songbirds can be heard calling among the trees. There are also raccoons, skunks, white-tailed deer, squirrels, porcupine, and many other animals hidden under the forest canopy. An occasional Moose, the namesake of the park, has been spotted along these trails.
The Meadow Trail is an easy 0.4-mile ocean-side walk, where visitors will pass by two staircases leading to pebble beaches and the water's edge.
There is a chance to view a variety of marine life here at Moose Point, including seals, porpoises, and birds such as double-crested cormorants, loons, sea ducks, bald eagles, and ospreys. Tidal pools, formed by retreating water at low tide, hold diverse marine organisms, and exploring them is a great learning activity for children and adults alike.
View the Moose Point State Park page on BPL's website.
Other Information
The Group Shelter and Gazebo can be rented for special events, including weddings and family reunions. Call the park to find out about availability and fees. The Park is open from Memorial Day through October 1st.
Park rules require all pets be on a leash not exceeding four feet in length. Pets must not be left unattended. Pet owners are also responsible for cleaning up after their pets, so everyone is able to enjoy this park.
Trail Manager
Visit Maine Bureau of Parks and Lands online for more information and a printable map or contact: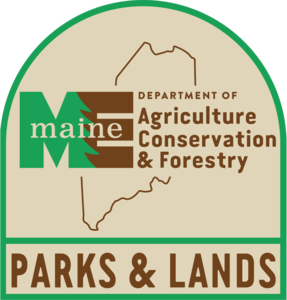 Maine Bureau of Parks and Lands, Searsport
310 West Maine Street
Searsport, ME 04974
Phone: (207) 548-2882