Description
Located in the center of Kennebunk, the 38-acre preserve has over 2,400 feet of frontage along the Mousam River and is convenient to the downtown area. Following a relatively steep initial ascent, the trail levels and winds through mixed forest on a trail blazed in red. Approximately three fourths of a mile into the preserve there is a blue blazed scenic vista that overlooks a broad estuary where the Mousam River becomes tidal; there is another overlook at the end of the trail. The sanctuary is an ideal location to observe waterfowl on the river, and warblers are abundant during migration.
Other Information
Kennebunk Land Trust (KLT) was established in 1972. Kennebunk Land Trust's mission is to permanently conserve and steward land to benefit natural and human communities. Since its inception, the Trust has worked to protect over 3,400 acres of land through ownership, conservation easement and partnership. To find out about volunteer opportunities with the Trust, please contact them using the information below.
Trail Etiquette – while enjoying the preserve, please help us protect their natural resources by keeping these things in mind:
Daylight Use Only
No Fires, Camping or Motorized Vehicles
No hunting allowed.
Carry in – Carry Out: Trails do not have trash cans or bathroom facilities. Please do not litter.
Dogs: Dogs are welcome on KLT properties. Responsible dog owners will please clean up and remove from premises all pet waste. Be respectful of other users, not all walkers are dog lovers. Be respectful of the environment. Pets who chase wildlife, or who jump up on or intimidate strangers are best left on leash.
Mountain Biking: Some KLT trails are appropriate for mountain biking. While allowed, we ask that you consider surface conditions before riding to prevent rutting and trail damage. Off-trail riding and unsafe riding will not be tolerated. Riders must be sensitive to other users.
Habitat: Many KLT trails pass through habitat for a variety of resident and migrating wildlife. Please be respectful.
Monitoring: KLT volunteers monitor and maintain the trails. Should you find downed trees, vandalism or inappropriate uses on any part of the preserves or trails, please contact the Trust.
Trail users should be prepared for inclement weather, wear appropriate footwear and clothing, and bring along water and snacks. Southern Maine does have deer ticks that carry Lyme disease; hikers should always perform "tick checks" on themselves and pets following a trip into the woods.
Trail Manager
Visit Kennebunk Land Trust online for more information or contact: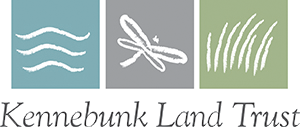 Kennebunk Land Trust
6 Brown Street, Suite 2
Kennebunk, ME 04043
Phone: (207) 985-8734
info@kennebunklandtrust.org
View website