Description
The beginning of the trail passes through an old gravel pit, formerly used to build the region's logging roads. After passing through an early successional forest of tamarack, birch, alder, and aspen, the esker narrows, offering partial views of a domed bog and 5,000 acres of wetland habitat. Passing through mixed woodlands, hikers are treated to gorgeous views of wide-open wetlands and Amazon Mountain. Keep an eye out for ruffed and spruce grouse, songbirds, beaver, muskrat, and river otter playing in the shallows.
This trail is intended for foot traffic only. Snowmobiles are allowed in winter, under good snow conditions. Please stay on the trail, and carry out any refuse you bring in. Overnight camping is not permitted.
Other Information
Downeast Lakes Land Trust (DLLT) is a nonprofit founded in 2001 by local residents in Grand Lake Stream, Maine. We contribute to the long-term economic and environmental well-being of the Downeast Lakes region through the conservation and exemplary management of its forests and waters. In 2001 we laid out our strategy for the future – a bold vision to protect extraordinary natural resources and a way of life. Many supporters and partners have helped us succeed in protecting over 350,000 acres of the forests, wildlife habitats, watersheds, and lake shores that can sustain the regions future. DLLT sustainably manages the 55,678-acre Downeast Lakes Community Forest, with 90 miles of lake shore, for wildlife habitat, forest products, and public recreation.

This trail passes through a property that was acquired in part with funds from the Land for Maine's Future program. For more information about the LMF program and the places it has helped to protect, please visit the LMF webpage.
Trail Manager
Visit the Downeast Lakes Land Trust online for more information or contact: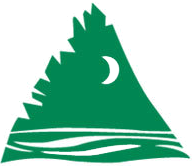 Downeast Lakes Land Trust
4 Water Street
Grand Lake Stream, ME 04668
Phone: (207) 796-2100
info@downeastlakes.org
View website