Description
The signle track trails in the network are described below. Easy trails are marked with a green circle, moderate trails with a blue square, and advanced trails with a black diamond.
Eric's Around the Mountain (easy):
This rolling trail starts over roots and a steep pitch, but mellows out after 100yards. Then it loops around Nordic Hill and back to the Welcome Center; along the way providing access to most of the trail network.
Field Trail (easy):
This is a snowshoe trail only. It links with Tom's Return to form the Pet Snowshoe loop. Follow yellow signs with black paw prints. The trail is not always visible after fresh snow. It descends from the Rock Gardens then skirts the edge to the pine tree plantation, and passes along the edge of the field next to the Gallagher Farm before climbing up an old logging road back to Tom's Return near the roadside trailhead. This is a very scenic trail with passes through old Apple tree orchards and maturing conifer forests.
Moose Trail (easy):
This beginner friendly trail is smooth with undulating terrain. It offers views of Katahdin and access to the Terrain Park.
Ashby Ridge Trail (moderate):
This scenic rolling trail spans the heart of the Fort Fairfield side. It includes large rock out crops, sections of roots, and has some alternate lines. Combined with the Islands Trail, it forms a very nice intermediate loop.
Bootleg Trail (moderate):
This is a twisty descent that provides more advanced riders an alternative to the terrain park. Caution: It is very slick when wet!
Chris's Climb (moderate):
This is a gradual climb that branches off the Ashby Ridge Trail and connects to Eric's Around the Mountain at the top of Nordic Hill. The trail has some roots and is steeper near summit. It also passes near the Fort Fairfield Warming Hut, which offers a short cut to the Goat Trails.
Islands Trail (moderate): This along with Ashby Ridge make a nice intermediate loop. It has rolling terrain with roots and some ledge.
Quoggy Jo Trail (moderate): A smooth flowing trail that offers great scenery. This is a local favorite. It has some tight turns and a couple rock-armored water crossings as well as some nice bridges. It is the furthest trail from the Welcome Center, please allow plenty of time to get there and back.
Tom's Trail (moderate): This is the primary route from the Roadside Trailhead to the heart of the trail network. It is gradual terrain, with a few steep pitches, some roots and ledge. There is also a short cut to access the Rock Gardens along Tom's Return.
West Trail (moderate): This is a smooth twisting trail with banked hairpin turns and has some blind corners. It is also home to the gnomes, mushrooms, and toads of Enchanted Forest, making it the most popular destination in the trail network. West Trail plus Eric's Around the Mountain form a nice 4-mile loop.
Carl's Trail (advanced): Best characterized as "old school" terrain, this trail has very steep pitches and tight turns; great fun for thrill seekers. This trail can only be accessed from Tom's Return.
Goat Trail (advanced): This is a gradual climb or descent with many rolls, ledges, and tight turns. It connects the high point on Eric's Around the Mountain to the other Goat Trails.
Lower Goat Trail (advanced): This is an alternate route from Tom's Trail to Goat Trail or Zig Zag Trail. Combined with Upper Goat Trail is makes a short but very challenging loop.
Tom's Return (advanced): This is a very twisty rock-laden trail. It has many alternate lines including Rock Gardens, which is a free rider's playground. There is also a diving board that has been incorporated into the trail. Sections of this trail can be very muddy.
Upper Goat Trail (advanced): This steeply rolling and twisting trail connects Tom's Trail and Ashby Ridge to Eric's Around the Mountain and the Welcome Center. The most challenging portion is on the leg from Eric's Around the Mountain to Goat Trail.
Zig Zag Trail (Junction 18 via 23 to 27, advanced): True to its name, this trail is a hard ascent or technical descent with steep pitches, hairpin turns and many roots. The Fort Fairfield Warming Hut can be accessed form this trail via Chris's Short Cut.
Vacationland (advanced): This technical riders playground is full of rock outcrops, tight turns, and steep descents. There are also many unmarked alternate lines.
Other Information
These trails are very popular and have a variety of users. These are two-way traffic trails. Please use caution and expect to encounter other users. The Moose, Eric's Around the Mountain, West and Quoggy Jo Trails usually dry out quickly after rain storms. The other trails tend to stay slick and muddy for much longer, please plan your use accordingly.
Pet Snowshoe Loop Users begin from Roadside Trail head and please pick-up-your-poop. Also please stay on Tom's Return and the Field Trail. See Roadside kiosk for more information.
Please obey all temporary trail postings and inspect trails and terrain park before travelling at higher speeds or using jumps and obstacles. Thank you!
Trail Manager
Visit the Nordic Heritage Center online for more information or contact: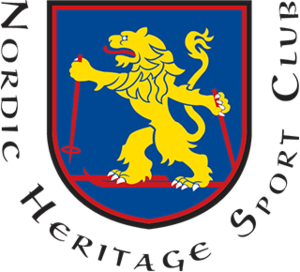 Nordic Heritage Sport Club
PO Box 4015
Presque Isle, ME 04769
Phone: (207) 762-6972
info@nordicheritagecenter.org