Description
Number 4 Mountain Trail – 1.7 miles one-way. The trail is a primitive footpath primarily following the traditional route taken by fire wardens formerly staffing the now abandoned Number 4 Mountain fire tower. For roughly a third mile, the trail is relatively flat. The trail from the former warden's camp site to the summit area climbs steadily for a little over a mile, following the original trail route at times as well as trail reroute switchbacks. Just past the fire tower site, look for an attractive set of vistas looking over Baker Mountain, Lily Bay Mountain, and Moosehead Lake.
Baker Mountain – Additional 4.7 miles one-way. The Baker Mountain Trail heading southward from the vistas on Number 4 Mountain follows a gentle ridge as it eases through softwood-dominated woodlands towards a low saddle between Number 4 Mountain, Lily Bay Mountain, and Baker Mountain. At approximately 2.6 miles past the summit area on Number 4 Mountain, the trail crosses a rough road now used as a snowmobile trail. Turn left (generally northward) as you diagonally cross the snowmobile trail and pick back up the trail as it begins to rise towards the 3,521' summit of Baker Mountain – which is reached in another roughly 2.1 miles. Views from the climb up Baker Mountain include vistas to Katahdin. While the hike to Baker Mountain is long, the climbing is limited with generally rolling topography between the summits of Number 4 and Baker. Views are periodic with the ridgelines being forested. Total round-trip distance from the trailhead to Baker's summit and back is 12.8 miles.
Other Information
A campsite is planned to be developed to serve backpacking interests on the trail. It is anticipated that a site will be developed slightly north of the snowmobile trail crossing point. More details will be posted as the project unfolds.
The Number 4 Mountain and Baker Mountain Trails were developed through a trails easement and grant process funded by Weyerhaeuser as part of the Moosehead Lake Region Concept Plan. The final 1.5 miles of trail leading to Baker's summit are now owned by the Appalachian Mountain Club. Dozens of miles of other trail projects are being finalized as part of this regional trail project. More information on this substantial project in the Moosehead Lake Region can be found online here.
Trail Manager
Visit ME Bureau of Parks and Lands' Moosehead Region Non-motorized Trails Planning online for more information or contact: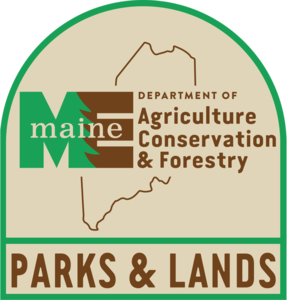 Maine Bureau of Parks and Lands
22 SHS
Augusta, ME 04333
Phone: 207-287-4920
rex.turner@maine.gov
View website