Description
Pennacook Trails is a network of high-quality single-track mountain bike trails through both private and town-owned parcels in the River Valley area of Rumford. It includes 3.5 miles of singletrack dedicated mountain bike trails, and 1 mile of doubletrack multiuse pathways and woods roads.
Take Off (0.68 miles), Fawntastic (0.38 miles), and Bull Pine (0.6 miles) are all easy singletrack trails. The intermediate singletrack Rope Tow trail (1.85 miles) provides more of a challenge for those wanting to test their skills.
The High School trail (0.94 miles) and Inrun Road (0.2 miles) are multiuse doubletrack trails. Please be aware of ATVs and snowmobiles that may also be enjoying these doubletrack trails.
Other Information
RULES:
Bikers have the right-of-way on single track bike trails
Dogs allowed on leash or under voice command on all trails
Authorized vehicles may be present at any time on all double track roads and pathways
Motorized vehicles are prohibited on all single track bike trails
Active forestry may be occurring at any time
Carry out all litter, including pet waste
Snowmobilers and ATVers traveling on double track trails, respect landowners and adhere to directional signage provided by local clubs that are posted along the corridors
Trail Manager
For additional information, visit the Inland Woods + Trails website, or contact: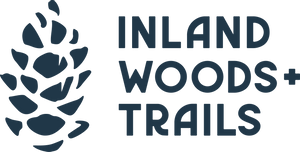 Inland Woods + Trails
PO Box 572
Bethel, ME 04217
Phone: 207.200.8240
info@woodsandtrails.org
View website