Description
The Intervale is a low-lying track of land along the Perham Stream where fertile soils and easy access to water once supported an active and vibrant farming community of over 30 families. The Intervale lies between Saddleback, Saddleback Junior, Mount Abram, and Farmer Mountain, and today provides a peaceful retreat into the heart and splendor of western Maine's Unorganized Territories.
The Perham Stream Birding Trail is accessible year-round by foot travel only. Visitors can walk, snowshoe, or cross-country ski. The trail is set up with birders and wildlife watchers in mind, and binoculars are definitely encouraged! There are five birding "sub-habitats" along the trail, including field, alder thicket with hardwood wetland, mixed-wood forest dominated with hardwood, mixed wood with stream, and field/stream edges.
Other Information
Please respect our landowners' generosity with your quiet enjoyment. The goal of every visitor should be to leave zero impact on the trail.
Trail Manager
Visit the High Peaks Alliance online for more information or contact: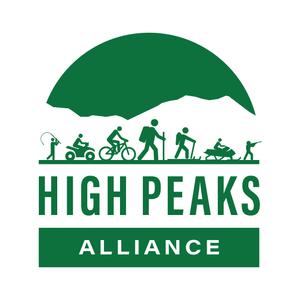 High Peaks Alliance
PO Box 987
Farmington, ME 04938
Phone: (207) 491-2750
brent@highpeaksalliance.org
View website