Description
Located about four miles east of the center of the Town of Gray, the Pineland Public Lands includes more than 600 acres in Gray, North Yarmouth, and New Gloucester. The forests on this land, along with the nearby agricultural fields, which are now privately owned, once supplied the needs of hundreds of residents and staff at the Pineland Center. Now, this wonderful area of undeveloped forests helps to fill the growing need for open space and outdoor recreation.
Pineland has 3.2 miles of loop trails to offer its visitors. Taking hikers through ever changing woodlands, the 1.7-mile North Loop Trail covers some steep slopes to reach the Royal River. On the other side of the road there is the 1.5-mile South Loop Trail taking visitors on a pleasant hike through the woods on more gentle slopes.
Those interested in the natural treasures of this woodland can travel off trail and find rare Maine blackgum tupelo trees as well as large and impressive pines, oaks, and hemlocks. For another woodland attribute, Pineland has the claim of being home of the biggest ironwood trees in the state.
Pineland offers a wide variety of wildlife habitat, which provides opportunity to see a vast range of animals. Upland species include white-tail deer, red fox, snowshoe hare, red squirrel, gray squirrel, ruffed grouse, woodcock, and wild turkey. In addition, where the forests meet the privately owned fields there is habitat for bluebirds, meadowlarks, and kestrels.
View the Pineland Public Reserve Land page on BPL's website.
Other Information
In winter, snowshoers and cross country skiers enjoy the South Loop Trail with its gentle slopes and beautiful forests. The North Loop Trail is for experts only under the best snow conditions. Do not attempt to ski the North Loop Trail if conditions are icy or snow cover is thin. In spring and summer, visitors fish the Royal River for brook trout and brown trout. In season, hunters are on the lands looking for turkey and deer. There is no camping allowed on this property, and as with all public lands, there is a carry in-carry out policy.
NOTE: There has been some confusion caused by a nearby snowshoe trail located off the public lands in the vicinity of the northwestern portion of the Northern Loop Trail. Public lands hiking trails on the Pineland Public Lands property are blue blazed, whereas the snowshoe trail on the far side of a small brook are marked with green wooden diamonds. Additionally, there is a small open area along the Depot Road to the west of the designated trailhead. This is not the trailhead; the trailhead for the Northern Loop is marked by a blue roadside yard-arm (hanging sign) and there is also a trailhead bulletin board on site.
Trail Manager
Visit Maine Bureau of Parks and Lands online for more information or contact: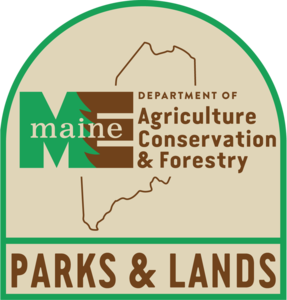 Maine Bureau of Parks and Lands, Western Public Lands Office
PO Box 327
Farmington, Maine 04938
Phone: (207) 778-8231
Tim.Post@maine.gov
View website