Description
Pleasant Hill Preserve has a network of trails that can be combined for an adventure of about 2 miles.
Eleanor's Trail is a Universal Access/ADA Trail, designed to accommodate wheelchairs, walkers, and strollers! The 0.25 mile path is made of crushed stone with a few gentle grade changes. A wetland overlook allows people to step off the trail and admire the headwaters of the Spurwink River. There is a bench at the trail terminus that allows people to rest while enjoying a view of old farm fields and the remaining metal barn. Prepare for 0.5 miles round trip.
Monty's Trail is a 1.25-mile loop beginning and ending at the metal barn near the terminus of Eleanor's Trail. The trail includes mowed paths through the old farm fields, boardwalks over wetland areas, and some short sections with uneven footing. Exposed boulders, a hidden field, and the red oak overstory are a few of the sweet features of this trail.
The Northern Wildlife Loop circles 0.4 miles through the woods at the north end of the property, from Monty's Trail.
Swallow's Field is a 0.2-mile trail that cuts off the south end of Monty's Trail, through old farm fields.
Information about the history of the property, wildlife sightings, and a printable trail map can be found on the Scarborough Land Trust website.
Read about Enock's experience using a wheelchair on these trails in MTF Stories. Click here.
Other Information
Bikes are not allowed at Pleasant Hill Preserve.
All dogs must be leashed on Eleanor's Trail at all times, as the trail is designed for universal accessibility and dogs off leash could comprise this use. Please pack out all dog waste.
Trail Manager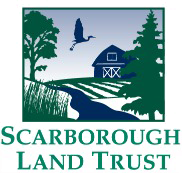 Scarborough Land Trust
7 Oak Hill Terrace, Suite 202 / Scarborough, ME 04074
PO Box 1237 / Scarborough, ME 04070
Phone: (207) 289-1199
info@scarboroughlandtrust.org
View website