Description
Bordering the south side of the mouth of the Kennebec River, Popham Beach State Park is truly a rare geologic landform in Maine that features a long stretch of sand beach. Sunbathers relaxing on Popham's sands can view Seguin, Fox and Wood islands. An 1857 lighthouse rests on Seguin Island. Fox Island is reachable at low tide, but pay attention and don't get caught on this little island when the tide starts to turn.
The rolling Atlantic surf draws thousands of swimmers and surfers alike, and shell collecting is a past time for many. Other activities in the area include fishing, hunting, sea kayaking, and birdwatching. Picnic tables and charcoal grills, as well as bathhouses with freshwater showers, are available to beach patrons.
It would be regrettable for visitors of Popham Beach to leave the peninsula without taking in three nearby historic sites, Fort Baldwin, Fort Popham and the archaeological site of Fort Saint George the 1607 English settlement site.
Put the beach crowds behind and take a 1.2 mile stroll up the Perkins Farm Trail to the site of Fort Baldwin. A short detour down the Bay Farm Trail offers views of Atkins Bay. Hear the crashing of waves as you meander through a predominantly soft wood forest to discover historic Fort Baldwin. The fort was built between 1905 and 1912 and named for Jeduthan Baldwin, an engineer for the Colonial army during the Revolutionary War. Fort Baldwin originally consisted of three batteries: Cogan, Hardman, and Hawley. Climb the fort's tower for a breathtaking, aerial view of the batteries and surrounding area. Alternatively, Fort Baldwin can be accessed via Fort Baldwin Road off of Route 209, approximately 1.3 miles from Popham Beach. This access point brings visitors directly to the archaeological site of Fort Saint George the 1607 English settlement site, a great place to picnic, with a view overlooking the bay and Fort Popham.
For a closer look at Fort Popham follow Route 209 to its end. Fort Popham is a semi-circular granite fort that was abandoned before completion. Construction of this fort began in 1862 for use during the Civil War. Modifications were made and the fort was used again in the Spanish American War and in World War 1. Historical records conclude that fortifications, probably wooden, existed here and protected the Kennebec settlements during the Revolutionary War and the War of 1812. Visitors to Fort Popham are welcome to explore the entirety of the fort, utilize the picnic area or simply sit seaside and take in the cool ocean breezes.
View the Popham Beach State Park page on BPL's website.
Other Information
Popham has a Dynamic and Changing Landscape; sand movement and beach dynamics have had a dramatic effect on Popham Beach, causing extreme shoreline change and dune erosion. Please refer to the Beach Advisory Calendar to plan your next visit to Popham Beach State Park. Dates listing a Beach Advisory have a high tide during peak hours resulting in very little beach space during busy times.
Lifeguards are on duty during the summer months, but beachgoers should note that this is a strong surf beach with undertows and occasional rip tides. Swimmers should swim within their abilities and near the lifeguard.
Call the Popham Beach State Park's Hotline during the summer for current tide and parking information. Surfers can visit Maine Harbors for tide information and should add 9 minutes to the Portland chart for Popham Beach high and low tide data.
Popham's cultural and social history is still being uncovered. Excavations of the Popham settlement of 1607 and Fort George continue each summer.
Trail Manager
Visit Maine Bureau of Parks and Lands online at Popham Beach State Park, Fort Baldwin State Historic Site, and Fort Popham State Historic Site for more information or contact: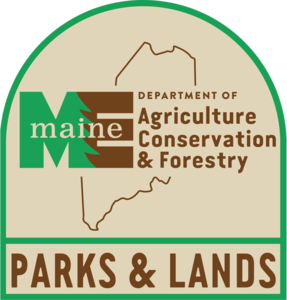 Maine Bureau of Parks and Lands, Popham Beach State Park
10 Perkins Farm Lane
Phippsburg, ME 04562
Phone: (207) 389-9125